Rider on a roll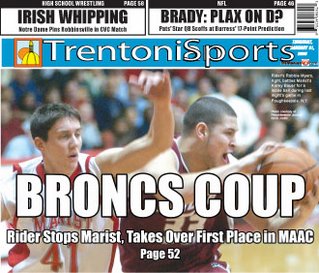 Don't look now, but Rider is on a big enough roll that if the Broncs win two of their next three games, they have to be considered the favorite to win the MAAC championship. 
Last night's 79-65 win at Marist
was by far their most significant win of the season to date. It might not have that distinction for long, because a win Saturday at Siena (on ESPN2) would be even bigger. But last night's win was huge, and here's why: 
In addition to the fact that it put the Broncs in sole possession of first place in the MAAC, it was the first time this season that the Broncs beat a top-tier MAAC team on the road. 
They had been playing good basketball for several weeks and had won seven straight heading into last night's game. But of those seven wins, only one was against a team that has a winning record in the MAAC (Loyola) and that game was at home. Their only road wins had been against Iona, Manhattan and St. Peter's.
That isn't to say those games don't mean anything -- it's never easy to win on the road, so even Sunday's win against lowly St. Peter's was something to be content about. 
But before last night, it would be reasonable to say that the Broncs were good, but untested; that they had yet to make a firm statement that they were a dominant team. 
But Rider made that statement last night and made it emphatically, never trailing and leading for all but 87 seconds in the league's most hostile environment. 
Once again, the Broncs got a spark in perimeter offense from the bench; this time it was Kam Warner hitting three big 3s, including two in a critical stretch in the second half during which Marist threatened to get back into the game. 
And once again, Jason Thompson was dominant, scoring 20 points and adding nine rebounds, which made him the first player in school history to surpass the 1,000 rebound mark. 
Marist starting center Spongy Benjamin (whose real first name is Wilfred, in case you were wondering) was out with the flu, forcing Shae McNamara into the starting lineup and into the position of Marist player stuck with trying to guard Thompson. After the game, McNamara had one of the best lines I've heard all season, when he said "he's going to have an edge on anyone, especially me." 
A few more thoughts on last night's win: 
I talked to one person in the Marist athletic department who was extremely disappointed that the game drew a crowd of only 2,129 -- about 400 short of a sellout. But even though not every seat was full, I thought the atmosphere was still on a different level than every other venue in the MAAC. Rider did a great job taking the crowd out of the game early, and Tommy Dempsey said he thought because Rider played such good defense in the first half, the crowd never really became a factor. Nevertheless, there was an energy in the building for almost the whole game that you just don't get at many other MAAC gyms. And let me say again, the biggest difference might be the pep band. I think pep bands have a LOT to do with the atmosphere at college basketball games. I counted seven pep bands I've seen this year, including three in the Big East (Rutgers, Seton Hall and UConn). Marist's is, without question, the best one I've seen this year, and I think the crowd, particularly the student section, feeds off the energy the band provides. 
Once again, Justin Robinson played

very

well at point guard. He scored 11 points and, though he had only one assist, he committed only one turnover in 29 minutes. The point guard situation has been interesting from the beginning of the season. Robinson won the starting job in preseason practice over Matt Griffin, but after the first few MAAC games, it seemed that Griffin was on the verge of overtaking Robinson as the top point guard. Dempsey said even at that point that he was never considering replacing Robinson with Griffin in the starting lineup, but you couldn't help but wonder if in the future, Griffin would be on the court in critical stretches in the second half. He seemed to have a much better command of the offense, and to have earned the respect of his teammates to a greater extent than Robinson. (That isn't a dig at Robinson; it's just an observation that when Griffin talked, his teammates listened to him as if he were an on-court assistant coach, which doesn't always happen with freshmen point guards.) Now though, Robinson looks much more confident on offense than he did earlier in the year. He doesn't take a lot of shots, but the ones he takes are good ones; he lets the offense work itself out, and takes shots that work within the flow of the offense, instead of forcing shots just for the sake of shooting. Last night was a case in point even though he wasn't dead-on from the perimeter: he took open shots when he had them, making 5 of 11 for 11 points. 
Not a lot of attention is paid to the amount of minutes both Thompson brothers play. Rider plays a pretty up-tempo style, with a lot of half-court and sometimes full-court pressure, so it's not the kind of style that lends itself to guys playing 35 minutes a night. But last night, both played 36 minutes and played well for virtually all of them, combining for 34 points, 15 rebounds and seven assists. 
And let's not forget about Rutgers, which pushed Seton Hall to overtime last night at the RAC before losing 84-71. Trentonian staff writer Eleazer Gorenstein was at the game, and here's a link to
his story
in today's paper. 
Would have been a nice win for the Scarlet Knights, who had won two straight against ranked teams coming in. It is, though, a very nice win for Seton Hall, which has won five straight in the Big East after an 0-3 start. If the Pirates continue to play well and finish in the top six or seven in the Big East, they're going to have a shot at an NCAA tournament bid -- something from which Rutgers, despite its obvious improvement, appears to be years away.