A crowded pack in the MAAC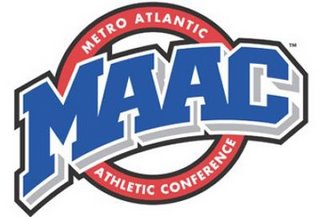 It wasn't pretty, but Rider went into the House of Horrors (aka the Hynes Athletic Center at Iona) and got a win -- something the Broncs couldn't do against an 0-22 Iona team last year. 
Harris Mansell woke up from an early shooting slump to score a game-high 18 points for the Broncs, who host Loyola tomorrow afternoon at the Broncs' Zoo. 
Here's a
link
to the game story in today's Trentonian. There's also a notebook in the print edition. 
Tomorrow's game is a must-win for Rider. As Tommy Dempsey put it last week, the Broncs slipped back a little from the top teams in the MAAC when they lost at home last week to Marist. If they want to get back into the mix, they need to be virtually unbeatable at home, beat teams like Iona on the road, and try to steal a road win at places like Marist, Siena and Loyola. 
Marist, which beat St. Peter's last night, is now 4-1 in the league. Fairfield, pronounced dead by many after an atrocious first month of the season, is alive and kicking at 3-2, having won at Siena and Loyola. 
And after Siena won last night at Niagara, six out of the 10 teams in the conference are within a game of
first place
. 
Tomorrow is a good opportunity for the Broncs to win a game against a top-tier MAAC team -- something they haven't yet done, despite being 3-2 in the league. 
I'm curious to know: which teams do you think are legit in the MAAC and which teams will fade by the end of January?