This week's 30 pack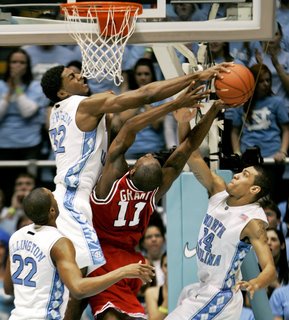 In this week's 30-pack of the TCHB (Trentonian college hoops blog) top teams, Memphis, still dominant and unbeaten, retains the top spot. But North Carolina, which clobbered N.C. State last week and is starting to look more unbeatable, jumps Kansas into the No. 2 spot. The Heels are also No. 1 in the RPI, surpassing Memphis, and that works in their favor. None of this is a slap in the face to Kansas; the Jayhawks are still in the top three, and I consider all three on a fairly even playing field. I'm also looking forward to watching Kansas tonight on ESPN, in what looks like a heck of a slate for Big Monday (Georgetown and Pitt kick it off at 7, before Kansas and Oklahoma.)

There are several things on which the TCHB disagrees with the consensus from the voters in the AP poll, which has Georgetown up two spots to No. 5 after narrowly beating UConn on the strength of a Roy Hibbert -- that's right, Roy Hibbert! -- 3 in the final seconds. The TCHB watches a lot of UConn games and, though impressed with the improvement the Huskies have shown, doesn't think beating them on a miracle shot at home is cause to be elevated in the rankings. There are a handful of other major differences as well, such as our inclusion of Drake -- one of the top three our four midmajors in the country -- in the top 20.
There are also a couple of other changes from last week in the top 10: one is that we had to knock down Washington State a couple slots for losing to UCLA and not taking the game down to the wire. We know it was on the road, but if the Cougars were only one spot worse than the Bruins, we think this one might have been a dogfight, which it wasn't. The other is that we're so impressed with the play of Dayton -- No. 4 today in the RPI -- that we moved the Flyers into the top 10, and booted Indiana, which should have had an easier time disposing of a mediocre Illinois team at home. 
Without further adieu, here's this week's TCHB 30, with last week's ranking in parentheses: 
1. Memphis (1)
2. North Carolina (3)
3. Kansas (2)
4. UCLA (4)
5. Michigan State (6) 
6. Tennessee (7)
7. Washington State (5) 
8. Duke (8)
9. Georgetown (9)
10. Dayton (12)
11. Indiana (10)
12. St. Mary's (14)
13. Texas A&M (11) 
14. Marquette  (20)
15. Mississippi (18) 
16. Drake (NR) 
17. Butler (21)  
18. Pitt (25) 
19. Wisconsin (23)
20. Xavier  (28)
21. Texas (15) 
22. Rhode Island (16)
23. Vanderbilt (13) 
24. West Virginia (22) 
25. Louisville (NR)
26. Clemson (19) 
27. Notre Dame (17) 
28. Villanova ( 27) 
29. UConn (NR) 
30. UMass (24) 
Dropped out: Arizona (from 26th); Stanford (from 29th); Syracuse (from 3oth). 

And a few other notes before we turn our attention to Big Monday: 
The TCHB went 2-for-3 in predicting the outcomes of the three big games we spotlighted last week in our Big East notebook. We were wrong about Marquette-Notre Dame. Kudos to Tom Crean and Co. for cooling down the Fightin' Irish and making a statement that they're still a contender for the Big East crown despite their recent loss to West Virginia. We can't take a lot of credit for telling you that Georgetown and West Virginia would both win, but we were pretty close on the margins of victory: We had Georgetown beating UConn by two; the Hoyas won by three. And we had West Virginia going to the Dome and winning by 13. We thought that was a fairly bold statement about the Mountaineers' supremacy over the Orange, and even took a little heat from the two Syracuse grads on the sports copy desk at the Trentonian. But Bob Huggins and Co. responded with force, winning by 20 and making us look pretty good. That win also booted the Orange from our top 30, and we don't expect Jim Boeheim's crew to be back any time soon. 
Secondly, we had double duty yesterday at the Broncs' Zoo, covering the Rider
women
and
men
. Those links will bring you to the game stories in today's Trentonian. 
Lastly, a response to the Fairfield fan who wanted the original Celtics Big Three to return to the ranks of college hoops and suit up for the Stags: nice try, but even if playing in the NBA didn't make players ineligible in college hoops, you picked three players who would still be 
OUT
of NCAA eligibility. If you want to pick a few Celtics, you've got three members of the Green's starting five who would have a combined nine years of eligibility: four each for Kevin Garnett and Kendrick Perkins and one from Ray Allen. 
That's all for today. We'll check in tomorrow with some thoughts on the rest of the week ahead in college hoops.