"It's a miracle"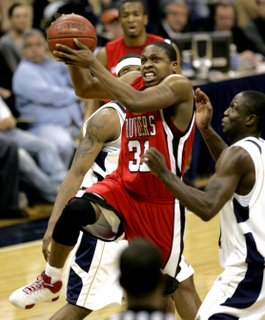 J.R. Inman is often straddles the line between reality and an alternate universe filled with fantasy and hyperbole. That explains why on the eve of Rutgers' game last month against No. 1 North Carolina, he predicted All-American Tyler Hanbrough would not be able to guard him. The reality, of course, was that Inman was the one incapable of slowing down Hansbrough, and that Rutgers had no answers anyone dressed in Tar Heel blue, let alone the Heels' best player.
And Inman may have exaggerated the situation slightly when he branded yesterday's 77-64 upset of No. 17 Pittsburgh "a mircale."
Afterall, this was Rutgers-Pitt, not the Americans and the Soviets at Lake Placid.
Yet with that said, the Scarlet Knights' win -- their second in a row over a ranked opponent after starting the Big East season 0-6 and being branded the worst team in the conference by just about everyone -- was just about as stunning as it comes in college basketball.
In the span of a week, the Scarlet Knights have gone from hopeless losers to talented, tenacious underdogs capable of wreaking havoc on heavily favored Big East opponents.
At 2-6 in the conference, Rutgers is still nothing close to a lock -- perhaps not even a serious contender -- for the 12-team Big East tournament at Madison Square Garden. But the Scarlet Knights can no longer be looked over; no longer laughed at as if they're nothing more than a mid-major punching bag playing in a power conference.
And anyone searching for a reason to be optimistic about a future centered around players like Corey Chanlder and Mike Coburn now can proclaim his or her optimism without being laughed at.
This blog post comes live from the Prudential Center, where Seton Hall leads Cincinnati 36-30 at halftime and Rider will take on St. Peter's at 2:30. The Broncs are looking for their seventh straight win and to remain in no worse than a first-place tie in the MAAC heading into Wednesday's game at Marist -- with whom the Broncs are tied, along with Siena.
In terms of talent and momentum, it's an obvious mismatch. The Broncs are playing at their highest level, while the Peacocks have lost six straight and 13 out of 14. But it's a league game on the road, which means anything can happen.
After all, didn't Pitt -- a powerhouse -- just lose to Rutgers -- a supposed doormat -- at home?