A few thoughts, then a few beers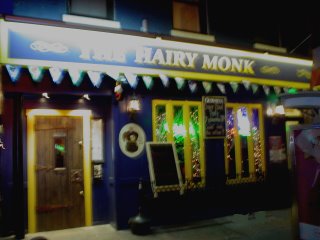 I'm off to the City in a few minutes to begin the countdown to pitchers and catchers by having a couple beers at the
Hairy Monk
, the home of the Sox in the City. First, though, a few points about last night: 
Novar Gadson, a 6-foot-6 shooting guard from Philadelphia, committed to Rider Sunday, becoming the third member of the Broncs' recruiting class. He told me Central Connecticut and Morehead State, which also were prepared to offer him scholarships, backed off because of concerns about his grades. But he said the biggest red flag was one he hopes to erase from his transcript: a 'D' he got last year in Algebra II. He's retaking the class in Saturday School, hoping to turn it into an A. He's also closing in on the John Bartram High career scoring record held by Joe "Jelleybean" Bryant. You may have heard of his son, Kobe. 
I didn't get a chance to watch all of Big Monday, but here are a few thoughts: 1) I'm not surprised Pitt beat Georgetown. I

really

thought Georgetown, though good, was overrated at fifth in the AP poll, and that's why I had the Hoyas ninth in my rankings. Losing at Pitt isn't an impeachable offense, but I think it shows that, at least right now, the Hoyas are not an elite team. 2) For the most part, I like ESPN. For all its well-documented faults, just about everyone who works there -- from the broadcasters to the anchors to the reporters -- are better than the folks at any other network. But did we need to waste three minutes hearing what Neil Everett and Scott Van Pelt thought about Kansas and how much they enjoy going to Fogg Allen Fieldhouse? Please, ESPN: Chill out on the pointless self-promotion (we're going to watch Sportscenter anyway) and let the play-by-play crew do its job! and 3) I still think St. Mary's is the best team in the WCC, but boy, did Gonzaga look impressive in the beating it handed to Pepperdine. 
Thanks to reader Scott Apuzzo for reminding us how underrated the Missouri Valley Conference is. That's exactly why I have Drake, which still hasn't cracked the top 25 in either major poll, at No. 16 in my rankings. 
That's all I've got for today. The more comments, the better.