The Round of 32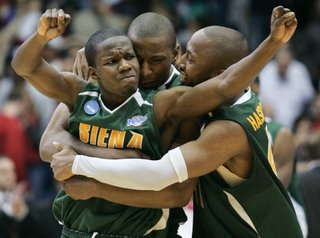 There were improbable 3-pointers, multiple overtimes, and moments that MAAC fans will never forget.
Only this time, it wasn't the MAAC tournament, it wasn't Niagara-Rider, and it WAS something of which every college hoops fan in the country took note.
I was at work, unable to watch Siena's thrilling, 74-72 double overtime victory over Ohio State until the final minutes of regulation. But I saw all the best parts, heard Ronald Moore's interview on Mad Dog Radio in the car on the way home, then I flipped on my TV and listened to an array of talking heads breaking down the Saints' win.
Hundreds of mid-major coaches are sitting at home right now, wanting what Fran McCaffery has: a team that's in the Round of 32 for the second straight year, soaking up national attention and moving toward long-term status in the upper echelon of mid-major hoops.
As I type this, there are countless high school freshmen and sophomores -- the must-have recruits of the future -- who hear "Siena" and think "NCAA tournament."
The Saints are miles away from being Gonzaga. Gonzaga wasn't the Gonzaga we now know -- big enough to be a major conference team in a mid-major conference -- until close to a decade of doing damage in the NCAA tournament.
But programs like the Zags' are built not through winning road games in December, but through winning in March, when everything's on the line and everyone's watching.
For two Marches now, Siena has won with people watching. This time, the Saints didn't take anyone by surprise or slip under the radar.
They were considered worthy of Ohio State's attention and of the nation's respect. Then they did what you have to do if you're going to build something big: They showed all that attention and all that respect was justified.
***
My bracket in the MAAC group on ESPN.com is in bad shape. I've lost four Sweet 16 teams and two Elite Eight teams (Wake Forsest and Florida State). The one thing that would make it look good is if Siena rewards me and shocks Louisville.
So the questions for you, MAAC maniacs, are these:
1) What are the Saints chances?
2) If they're going to pull it off, how are they going to do it?
3) And since it's a fun topic of conversation: Where does Siena's recent success rank among the best stories in MAAC history?
***
East Tennessee earned Fairfield some good pub, in an odd way: Pitt's margin of victory over ETSU was the smallest by a No. 1 seed over a 16 seed since the Stags gave North Carolina a scare in 1997.
***
Lastly, this video has the shot that inspired Bill Raftery describe Ronald Moore's "garden variety" onions.