Big East notebook: Passing the baton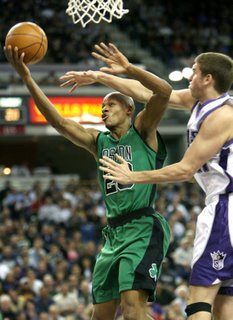 A few things to touch on first:
I'll get back to my states rankings tomorrow; I'm about to head up to New Rochelle, N.Y. for the Rider-Iona game.
 Be sure to check out the game story in tomorrow's Trentonian.
And now, since my Big East notebook didn't make it to the main sports page at trentonian.com, here it is:
Passing the baton 
A year after Jim Calhoun lost five players to the NBA draft, he got one player back.
After Calhoun watched his team, as he put it, "drop the baton" in the passing on of UConn tradition last year, that player may have been the one he needed most.
On June 28, a year after five UConn players were selected in the first round of the NBA draft, decimating Calhoun's team and leaving him with a cast of talented but unproven freshmen and sophomores, the Boston Celtics traded the rights to the No. 5 pick in the draft, along with guard Delonte West and forward Wally Szczerbiak, for a second-round pick and Ray Allen, the most recognizable face from UConn's great teams of the past two decades.
Calhoun explained yesterday on the Big East coaches' teleconference that in the pantheon of UConn players over the past 15 years, there has always been someone to pass along the tradition from one generation to the next.
When Donyell Marshall left after his junior year in 1994, he passed the baton to Allen. When Allen left two years later, there was Ricky Moore, an understudy to Allen who helped pass the baton the next year to Richard Hamilton.
On the baton went, from Hamilton to Albert Mouring, to Caron Butler, to Ben Gordon and Emeka Okafor, to Hilton Armstrong and Josh Boone, to … no one.
Forward Jeff Adrien, seldom-used as a freshman, was the only link from the Huskies' dominant 2005-06 team to last year's assemble of young talent. Point guard A.J. Price would have been a suitable link, but Price sat out his freshman year after nearly dying from a brain hemorrhage, then was suspended for the entire 2005-06 season after being found guilty of attempting to sell stolen laptops along with point guard Marcus Williams, who is now with the Nets.
So Price, who would have been a junior last year had he played during his first two years as a student, was just a rookie last year. Adrien, though talented, wasn't ready for the baton.
Which is where Allen comes in.
Admired and idolized in his three years in Storrs (from 1993-96), Allen spent the first 11 years of his pro career in Milwaukee and Seattle.
But upon his arrival in Boston — which, along with the addition of Kevin Garnett from the Minnesota Timberwolves, helped the Celtics to an NBA-best 29-4 record going into last night's games — Allen became a big-brother figure to many current Huskies.
He worked out at Gampel Pavilion over the summer and on multiple occasions has lent his advice to players such as sophomore shooting guard Jerome Dyson — the Huskies' closest thing to an emerging superstar.
"Having him come to Boston was a dream come true," Calhoun said. "I think he's really helped guys in the program. He's worked a lot with Jerome about being a scorer. There are very few young guys I've ever coached who are better people than Ray Allen. He loves this school and he's really given a great deal back and now that we have the opportunity to not have him 3,000 miles away, I think we're benefiting right now."
The Huskies have worked out with Allen and Donny Marshall, an undersized power forward who played alongside Allen in the mid-90s and is now a Celtics postgame analyst on Comcast SportsNet in New England.
That, Calhoun said, has helped establish connections to the past."(Marshall) will get into a scrimmage, he loves to keep himself in shape, and it's great to have him around," Calhoun said.
This team, though, is still in the early stages of writing its own chapter in UConn history.After suffering through the worst season in 20 years in Storrs last year and failing to qualify for any kind of postseason play, there have been signs of improvement this year but no signature win.
UConn (11-3, 2-1 Big East) travels to Washington, D.C. tomorrow in search of that win when it takes on No. 7 Georgetown at the Verizon Center (2 p.m., ESPN).
While they're in Washington, the Huskies will be joined for dinner by two guests: Butler, now a star forward for the Washington Wizards, and Allen, who will be in town with the Celtics to play the Wizards tomorrow night.
Close, but not quite there
Bobby Gonzalez says he knows the wins will start coming.
The second-year Seton Hall coach has seen too many good things from the Pirates (10-5, 0-2) this year not to have confidence that his team is better than the 13th-place finish that was predicted by the conference's coaches in their preseason poll. In two Big East games, the Pirates out-played UConn in the first half on Jan. 3 at the Prudential Center in Newark.
And on Tuesday night, the Pirates just missed out on a statement victory at Marquette, failing to hold on to a second-half lead in a 61-56 loss at the Bradley Center."I think we're making progress," Gonzalez said. "I think we're getting better and I think we're a team that's going to play better basketball later in the season."
Can-do Kentrell
The coaches who voted South Florida last in their preseason poll may have overlooked the impact of Bulls sophomore power forward Kentrell Gransberry.Gransberry has been a force in the low post, averaging 15.9 points and 11.5 rebounds as the Bulls have jumped to a 10-6 start (1-2 in the Big East).
He shined last week when USF trounced Rutgers — picked 15h in the 16-team conference, one spot ahead of USF."Kentrell was a known commodity coming in," said first-year Bulls coach Stan Heath. "He was a guy that had already posted double-figure points and double-figure rebounds and people already knew that that was the guy they had to point the finger at."
THREE GAMES THAT MATTER THE MOST

UConn (11-3, 2-1 Big East) at No. 7 Georgetown(12-1, 2-0); Tomorrow, 2 p.m., ESPN
We know UConn is better than it was a year ago, but how much better? The Huskies have looked good in Big East wins over Seton Hall and St. John's, but don't have a signature win. The Hoyas, who didn't look dominant in a 58-46 win last week at Rutgers, could prove their Big East supremacy with a convincing win.
Prediction: Georgetown 70, UConn 68

Notre Dame (12-2, 2-0) at No. 15 Marquette (12-2, 2-1); Tomorrow, 2 p.m.
Two teams that might be going in different directions. The Golden Eagles looked like the team to beat in the Big East before losing to West Virginia and barely beating Seton Hall. The Fighting Irish look like surprise contenders for the conference title and could cement that status with a win on the road.
Prediction: Notre Dame 77, Marquette 72

West Virginia (11-4, 1-2) at Syracuse (12-4, 2-1); Sunday, 2:30 p.m., ESPNU
West Virginia was surging coming into last night's game at Louisville, having beaten Marquette and jumped off to better-than-expected start under Bob Huggins. Syracuse has been good in some games (wins over Virginia and Washington) and not-so-good in others (losses to UMass and Cincinnati). Whichever team wins will put another item on its NCAA tournament resume.
Prediction: West Virginia 83, Syracuse 70

NOTABLE
Kenpom.com, a web site that ranks teams based on how good they are right now (as opposed to most sets of rankings, which evaluate teams based on their bodies of work), put West Virginia — rated fourth in the country — as the toughest team to beat heading into yesterday's games. The other Big East teams in the Kenpom ratings: Marquette (eighth); Georgetown (11th); Notre Dame (15th); Pittsburgh (24th); Louisville (30th); UConn (31st); Syracuse (40th); Providence (67th); South Florida (69th); Villanova (71st); St. John's (101st); Seton Hall (107th); DePaul (118th); Cincinnati (120th); and Rutgers (211th).

QUOTABLE
"You've got to come in and understand that every team that you're going to face in this league wants the same thing you want and is capable of getting it. We've seen that in the games and we're trying to improve."— Marquette coach Tom Crean, talking about the mindset of his team, which won its first two Big East games before being upset by West Virginia.