Party like its 1996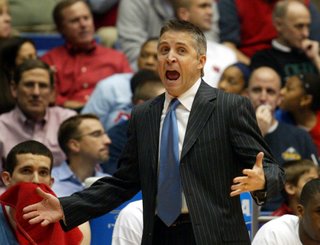 John
Calipari
is on top of the college basketball world,
UMass
and Temple both had huge wins this week, a candidate named Clinton is out on the campaign trail, and every day when you wake up and check the scores in the paper (or online), you're not crazy if the first question on your mind is "What happened last night in the Atlantic 10?" 
All of which begs the question: "um, which decade is it?"
If the season ended today, the A-10 -- after fading into irrelevance before the turn of the
millennium
 and staying there for years -- would have four teams in the NCAA tournament. 
Twice this year has an A-10 team knocked off a BCS conference heavyweight (Xavier over Indiana and Dayton -- by 25 -- over Pitt). Before losing Wednesday night at home to UMass, Dayton had risen to No. 4 in the RPI. And A-10 teams have been successful enough in nonconference play that it isn't unreasonable to think that UMass' win over Dayton (and St. Joe's' win at UMass, for that matter) was more a sign of the strength of the victorious underdog than of the weakness of the fallen favorite. 
Granted, the Flyers' loss will knock them down in the RPI and in the polls.
 But remember what happened the last two times the A-10 had a team that high in the rankings? 
 In 2005-06, George Washington was ranked as high as fourth in the country, only to get a No. 8 seed in the NCAA tournament and lose in the second round to Duke.
Two years before that, St. Joe's went into the A-10 tourney undefeated and got a No. 1 seed in the NCAAs, but the rest of the league was so bad that no one gave the Hawks any respect. And when Jameer Nelson and Co. fell short of the Final Four, skeptics snickered at what they viewed as the falsity of St. Joe's' claim to national supremacy. 
So I ask you, A-10 junkies -- all of you out there from Cincinnati to South Kingston -- wouldn't you rather have an exciting league with quality teams in the middle of the pack than one paper tiger at the top that isn't really that good? 
If that's what you want, it's looking more and more like that's what you're getting. 
Now, just one question: who let St. Louis into the league and how is it possible that the Billikens scored
20 points
in a regular reason game earlier this year? 
. . . . 
And a quick plug: the TCHB is diving into the world of Mercer County High School basketball. We'll be at Rider tonight for Notre Dame and Hopewell. Yesterday, it was Nottingham taking down Pennington on the road. Here's the
game story
in today's Trentonian.