MAAC Madness at Mohegan Sun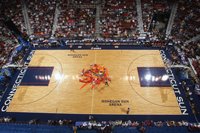 It's 4:15 a.m., so I'm taking a quick break from football and desk work to post a MAAC Madness entry. Today, we'll look at Mohegan Sun, which commissioner Rich Ensor told us last month is one of a few "destination" sites that are in the running to host the MAAC tournament in 2012-14. Basketball-wise, it's kind of a strange setting because the only college or pro team that plays there is the WNBA's Connecticut Sun, meaning most of the use the arena during the traditional basketball season is for concerts and all that other non-hoops stuff. 
Here's the rundown: 
Arena: Mohegan Sun
"Host" school: None
Past attendances: NA
Local newspapers: The Day (34,730 daily, 40,670 Sunday); Norwich Bulletin (21,121, 25,164)
Driving distance from league schools: 
458 miles (seven hours, 22 minutes) from Niagara
439 miles (seven hours, one minute) from Canisius
159 miles (two hours, 43 minutes) from Siena
144 miles (two hours, 43 minutes) from Marist 
76 miles (one hour, 25 minutes) from Fairfield
111 miles (two hours, six minutes) from Iona
121 miles (two hours, 16 minutes) from Manhattan 
144 miles (two hours, 47 minutes) from Saint Peter's 
188 miles (three hours, 39 minutes) from Rider
320 miles (five hours, 45 minutes) from Loyola 
Average distance: 216 miles (three hours, 46 minutes)
The Skinny: Simply put, I think it's a dumb idea. In our Q&A with the commish, he told us the league will look at sites within the league's "geographic footprint." I suppose a loose definition for "geographic footprint" could mean the entire Northeast, but I think that's a stretch. To me, the way to determine the geographic footprint is to draw a line connecting all the schools in the league. 
Anything within those boundaries is your geographic base. That means if anything is north or west of Buffalo, south of Baltimore, or -- here's the kicker, when it comes to Mohegan Sun -- east of Fairfield, it's not in the league's geographic base. Clearly, if a city is outside of those boundaries but relatively close, that'd be OK, too. But Fairfield is the eastern-most school in the league, and the Stags would have to drive an hour and 25 minutes (with normal traffic, according to Google Maps) to get there. To me, that doesn't make sense. 
The major draw is that, being a huge casino complex, Mohegan Sun gives you everything you could want in terms of lodging, restaurants, and stuff to do when you're not watching basketball, which in this case (for adults who so chose)  happens to include gambling. I get that, and I understand all that stuff is important. But here's the way I see it: if you put the tournament there, you're basically telling people to come for the tourist attractions and stay for the basketball. When you're trying to have a successful basketball tournament, your pitch should be "come for the basketball, and have a good time in the area while you're here." 
Atlantic City has a similar concept, and the Atlantic 10, which holds its tournament there every year, seems to think it works. But AC is at least within the general geographic outline of the MAAC (and the A-10), while Mohegan Sun isn't.