Red Fox Nation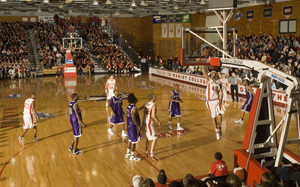 Rider plays Marist tomorrow night at the McCann Center, with first place in the MAAC on the line. It'll be a major test for the Broncs -- one that begins a four-game stretch that will determine whether they're the team to beat in the MAAC or simply a team that fattened up on a relatively easy portion of its schedule. 
Following tomorrow's game, the Broncs, in succession, play at Siena and at home against Niagara and Siena. Realistically, 4-0 is probably too much to ask. That isn't to say it's impossible, but winning four straight against the best teams in your league, including two on the road, is hard,  no matter how good you are. 
With that said, I think if the Broncs go 3-1 -- which could very well leave them alone in first place -- they have to be thrilled with where they stand. And I think that's possible. I'm excited to see how they look against the Red Foxes, to whom they lost in excruciating fashion on Jan. 4 at Alumni Gym. 
But I'd be excited to go to the McCann Center even if both teams were mediocre and the game was relatively meaningless. 
Why?
Because I think it has hands-down the best atmosphere of any gym in the league. 
With all due respect to the Zoo Crew at Rider, or the Reitz Rowdies at Loyola, for my two cents, Marist has the most supportive fans in the league with room to spare. 
I measure that by answering two questions: 1) How good is the home court advantage? and 2) how well do the fans travel?  
And I think in both areas, Marist's fans -- particularly the students, which make the biggest difference -- are the best in the league. 
The McCann Center is packed almost every night and the building, though old and fairly uncomfortable, is the perfect size for MAAC basketball. The Red Foxes also have another ingredient that's critical when assessing atmosphere: a really good pep band. 
And in four and a half years covering the MAAC, I've never seen a display of fans at a visiting arena (although in this case it was a neutral site) than the showing Red Fox Nation had at the MAAC tournament last year in Bridgeport. 
Had the Red Foxes played Fairfield in the final -- a round neither team reached -- I'm not sure the Stags would have had a major advantage in crowd noise despite playing on their home court. 
I'm curious what you guys think about two things: 1) How do you expect Rider to do in the upcoming four games and 2) which team or teams do you think have the best home court advantage in the MAAC?