50 Nifty United States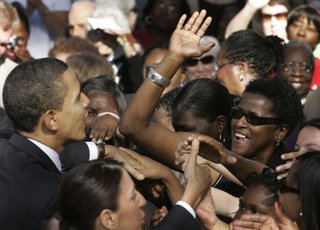 When you're a big enough nerd to be obsessed with both college basketball and politics, the following is an example of a thought that crosses your mind as you're walking down a street in Hoboken, pondering the significance of the state of New Hampshire: 
The Granite State is one of the most important states in presidential politics but one of the least important in college basketball. 
Anyone who turned on a TV last night and wasn't exclusively glued to the Big East doubleheader on SNY or Indiana-Michigan on ESPN (I flipped to CNN in commercials of the Big East games, while keeping an eye on the Hoosiers and Wolverines) or picked up a newspaper this morning knows that New Hampshire is a pretty important place if you want to be president. 
That got me thinking: North Carolina and California are both college hoops hotbeds but relatively unimportant in presidential elections (at least in general elections) because they aren't swing states. 
Florida and Ohio are unique in that they're extremely relevant in both: teams from those states squared off in last year's national championship game. And if you win both in a general election, you're virtually guaranteed to win the presidency. 
We know which states are the most important in politics. But which states matter the most in college hoops? 
At some point between now and the end of the season, I'm going to come up with a list of all 50 states, ranked in order of the quality of college hoops and the passion the fans there have for it. 
For now though, my top five; Ray Rice's press conference is this afternoon at Rutgers, so the bottom five will have to wait until tomorrow. But with all due respect to all those New Hampshire residents who flooded the polls yesterday to propel John McCain and Hillary Clinton to victory, your state might make that list. 
1. North Carolina -- Tobacco Road makes it more prominent in college hoops than Iowa or New Hampshire are in politics. In the last 25 years, it has produced the national champion seven times: three for Duke, three for North Carolina and one for NC State. 
2. Kentucky -- home to the winningest program in college basketball history, arguably the most college-hoops-obsessed fans in the country, and two schools at which Rick Pitino has coached. 
3. Indiana -- the Hoosiers are the top ticket in town, the Joyce Center rocks for every Norte Dame home game, Butler is a midmajor power, Purdue is always competitive, and even Indiana State, with a lanky forward named Larry Bird leading the way, has appeared in a national championship game. 
4. Pennsylvania -- The Keystone state often gets overlooked in conversations like this, but consider everything it has to offer: two Big East teams with legitimate hopes to win the conference and go deep into the NCAAs every year (Vilanova and Pitt); a decent enough Big Ten program (Penn State); and most importantly, the college hoops scene in Philadelphia, which includes everything from a team that was a No. 1 seed in the NCAA tournament three years ago (St. Joseph's) to a tradition-filled Ivy League program (Penn) and an up-and-coming midmajor program (Drexel) that happens to be coached by Bruiser Flint, a Philly native who played at St. Joe's. 
5. Connecticut -- It edges out Tennessee, which has two teams in the top 10 right now, for two reasons: 1) UConn is the only school to produce a men's and women's champion in the same year (2004) and 2) it joins the top three states on this list in which college basketball is more important to the fan base than college football. The down side is this: the UConn men have fallen -- at least temporarily -- off their birch atop the college hoops universe; and with all due respect to my alma mater, Fairfield -- which beat Siena last night to improve to 3-1 in the MAAC -- and to 2007 NCAA tournament team Central Connecticut State -- none of the six midmajor schools are on the national midmajor map. 
The toughest omission from this list was California, home to the team with the most championships (UCLA) and three other Pac 10 teams, all of whom have been very good at one time or another. The reason I had to leave it off is that the number of quality teams and the titles they have won isn't that big in relation to the enormous size and population of the state.