The week ahead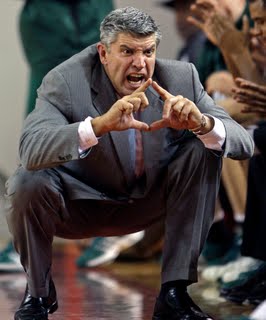 Welcome to December everyone, the month in which conference play begins and teams will build enough of a sample size for us to offer some sort of judgment heading into the New Year.
That isn't to say we can't make some judgments based on the MAAC's first 58 games. You can bet your mortgage that Marist will be in the play-in round at the MAAC tournament, for instance, and although the competition is going to get a LOT stiffer, we know fans won't be forgetting the name Derek Needham any time soon.
But in the next several weeks, we'll start to develop a rough outline for what to expect when league play gets going full-throttle next month.
With that in mind, a look what should be five revealing games for the rest of the week, which for the purpose of
this post, includes Sunday:


5. Loyola at Canisius, 9 p.m. Friday
Did anyone think Brett Harvey -- not Jamal Barney or even Shane Walker -- would be the Hounds leading scorer through seven games?
If Loyola is going to be a factor, it's going to need more from Barney -- last year's league scoring champ -- Walker, and Brian Rudolph, who are averaging a combined 33.4 points.
Then there's the Golden Griffs, whose three wins have come against teams with a combined three wins. They have every significant contributor back, but right now, it's hard to tell if any of them have gotten better.
4. Manhattan at Niagara, 7 p.m. Friday
Ricko Pickett has had back-to-back solid games and Daryl Crawford (12 or more points in all but one game) has been the go-to guy the Jaspers need.
Manhattan, though, has yet to beat anyone with an RPI in the top 200. Its best performance by far has been a five-point home loss to William & Mary, and a date with the Purple Eagles poses an interesting test.
Niagara (4-3) looked to be riding high after taking care of a good Central Florida team, but the Eagles haven't looked like a MAAC contender in their three games since, meaning a shaky performance in their conference opener would be cause for concern.
3. Fairfield at Saint Peter's, Sunday, 2 p.m.
Because of the epidemic of injuries that have hit Fairfield -- Warren Edney and Greg Nero, arguably the Stags' two best players, will both miss the entire season -- I picked the Stags two spots behing the Peacocks in my preseason MAAC rankings.
And while Fairfield's wins have been against even less impressive teams than Manhattan's (the Stags don't have a win against a team in the RPI top
300
), Needham and Yorel Hawkins have been so good that I'm beginning to reconsider their spot in the pecking order.
As for the Peacocks, Wesley Jenkins' clutch late-game performance -- two free throws, followed by a steal on the ensuing inbounds pass in the final seconds -- got them back in the win column last night following a pair of losses. If they're an upper-half team, this is the kind of game they should win at home.
2. Saint Peter's at Iona, Friday, 7:30 p.m.
If one MAAC team has been a pleasant surprise, it's been the Gaels, whose only losses have come to Florida State and in overtime to Baylor at the Old Spice Classic.
There's still not a dominant scorer, but Scott Machado (4.8 assists per game) is continuing to develop, and Iona's opponents are averaging more than 20 turnovers per game.
A win would put the Gaels at 5-2 -- a record Kevin Willard would have gladly signed for a month ago.
1. Siena at No. 23 Georgia Tech, 7 p.m. Wednesday
Perception-wise, the biggest reason the MAAC had a less than impressive November was the Saints' inability to stay on the national radar.
That's not to say every other team did their part to help the league's reputation. But if Siena was ranked -- and the Saints were one spot away in the AP poll before the Temple game -- it'd be hard to quibble with Niagara losing to Austin Pea.
The tilt with the Yellow Jackets, though, gives the Saints a chance for redemption in their last non-conference test before they open MAAC play next Monday at Iona.
With four of their five starters playing with various nagging injuries, escaping Atlanta with a win won't be easy. But if the Saints pull one off in these circumstances, they'll regain some of the swagger that they've lost over the last few weeks.