Iona hangs with Florida State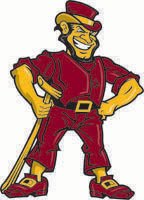 Let me be the first to wish you a happy black Friday -- and since I'm four minutes late, a belated Happy Thanksgiving.
I'm not rushing out to the mall right this second, though I'm told some stores are already open or will be shortly.
My family eats a very late dinner, so I was still wrapped up in pumpkin pie and post-dinner coffee during Iona's televised game against Florida State. I'm getting a late start on college hoops now by watching Portland-UCLA on ESPN2.
I did, though, take a few minutes to look through the Iona-FSU
box score.
If you're a fan of offense, you might not want to look. But if you're a MAAC fan, you have to be pleased with how Iona has played so far, and particularly, with how the Gaels hung in there with the Seminoles in a 54-49 loss.
The Gaels showed some resiliency by digging themselves out of a six-point hole and tying the game in the final minutes.
They also played one hell of a defensive game, with 13 steals and a whopping 27 forced turnovers.
Just think: If only they hadn't gone 2-for-15 from 3-point range.