Getting Ryan Thompson going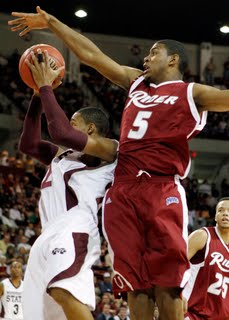 Through five games, Rider's record is either the same or a game better than most people expected it would be. If the Broncs beat Sam Houston State Wednesday, they'll head home for Thanksgiving having one 4-2 in a tough six-game stretch, something Tommy Dempsey said he certainly would have signed for if offered to him a month ago.
If that's the case, though, they'll have gotten there an unusual way: Without major input from Ryan Thompson.
Thompson played through pain after suffering a right knee contusion Tuesday against Florida A&M and finished with 13 points on 3-for-7 shooting. It wasn't a poor performance, but it was the fourth time in five games that someone other than the preseason MAAC Player of the Year (in this case it was Justin Robinson with 23 points) led the Broncs in scoring.
That Rider can turn to a number of players -- Robinson, Novar Gadson and Mike Ringgold all fit the bill -- speaks to the balance the Broncs have, and to their prospects for staying near the top of the MAAC standings next year, when Thompson will be gone.
But Dempsey conceded Tuesday that for Rider to be as good as it wants to be -- and for Thompson to achieve the personal goals he wants to achieve -- Thompson can't let this early-season funk turn into a prolonged slump.
"We have to get Ryan going," the coach said. "He's off to a slow start. He's got to make sure he's not putting too much pressure on himself. Senior year is a little bit different, especially when you're an NBA prospect. Several scouts were there again today and at the Kentucky game. He's got to make sure he doesn't put too much pressure on himself to be perfect. (He should) just let it rip. That's the biggest thing I need to get across to him."