One-on-one with Coach Cal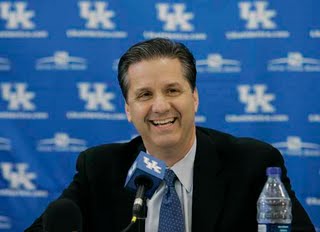 The last time I had talked to John Calipari, I was a 10-year-old at what had become the Bruiser Flint School of Basketball, and Calipari was the newly-hired coach of the New Jersey Nets.
I had signed up for the camp when it was still had Coach Cal's name attached to it, but that was before Calipari led UMass to the Final Four, the Nets lured him away and Flint – his top assistant – took over.
The highlight of the camp was when Calipari rolled up in a luxury car with tinted windows and Jersey plates, addressed the campers and held a brief autograph session.
I got to the front of the line, handed him my UMass t-shirt (I didn't have the chutzpah to tell him I was a UConn fan despite living in near-by South Hadley), and mumbled some kind of message of thanks before stepping aside to admire my treasure, which also had the John Hancocks of Dana Dingle, Dante Bright (to the left and right of Calipari in this huddle) and a few other Minutemen.
That 1995-96 season was one to remember in Western Mass, and particularly, at South Hadley Middle School. The Minutemen were the talk of the town all year, wracking up victories and garnering national praise as Marucs Camby blocked shot after shot and Carmelo Travieso drained 3 after 3.
The year got even better when Camby served as a student-teacher at the school. He didn't teach my class, but he did stop by to say hi and pose for a picture: A 6-foot-11 national Player of the Year candidate surrounded by a group of adoring 10-and-11-year-olds whose average height was somewhere around 4-6.
UM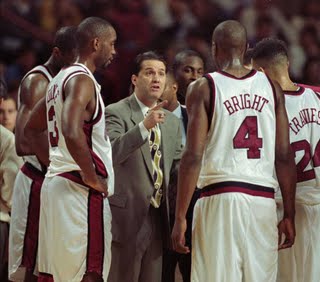 ass advanced to the Final Four (which was later vacated because Camby had accepted illegal gifts from an agent), where the Minutemen ran into some team from Lexington and lost in the national semis.
That brings us back to yesterday. Kentucky is set to host Rider today with Calipari on the sideline – a picture that seemed unlikely 13 years ago in Western Mass.
When my cell phone rang last night and Calipari was on the other end returning my call, my first question was:
Back in '96, did you ever think you'd end up coaching at Kentucky?
That kicked off our Q&A, which is transcribed below:
A: You hope some day you'll have an opportunity like this, but you don't know if it will ever happen because our profession is so topsy-tervy. But when you walk into Rupp Arena in front of 22,000 people who are going nuts, you say 'I'd love to coach here.'
Q: What's it been like so far?
A: The one thing here is, I don't know of any other university that's sop connected to its state. In Kentucky, there are no pro teams. Our football team played Eastern Kentucky and there were 70,000 people in the building. This is the commonwealth's university. This is what this state is all about.
Q: Thoughts on this freshman class, which most people consider the best in the country?
A: They're really trying, but they're freshmen. We've just set records in Rupp in giving up 3s for two consecutive games (against Miami of Ohio and Sam Houston State). The way Rider plays, they'll run it up if you let them and they'll play fast if you let them. They're dangerous.
I watched the tape of the Mississippi State game and they just absolutely blasted them. At the time I said 'you know what people don't understand how good teams are. Miami, Rider Cornell, you're talking about basketball teams that no one knows how good they are. One of the things I've tried to do is have us play NCAA-level teams with veteran players, and that's what they are. Miami has the best point guard in their league. You look at Rider and they have a veteran in Thompson and four guys averaging in double figures. Sam Houston State is picked to be one of the best teams in their league. They shot the living lights out against us.
Q: Do you still think as highly of Rider after watching the tape of the Virginia game?
A: Yeah, I didn't think Rider ever quit. It was a 15-point game, a 17-point game, they were on the road and they weren't shooting the ball particularly well.
Q: Does your team have the tools it needs to become a good defensive team?
A: I hope so, because the one thing I thought early was our offense would stink but our defense would be good. It turns out the offense has been great but the defense hasn't caught up. I'm starting three freshmen, the next two players off the bench are freshmen, and one of the kids is a sophomore who didn't play last year. We're as young as every team in the country.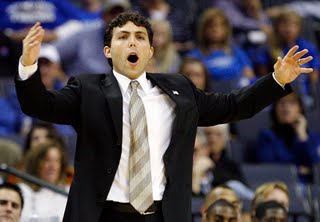 Q: Your former assistant, Josh Pastner (right), is getting all kinds of go
od press for the way Memphis has played so far and the No. 1 recruiting class he's brought in.
A. I'm happy for him. He and I talked after the Kansas game (a one-point Jayhawks victory) and I told him you had great substitutions, you had a team that really played for you and played hard, and you played a style that you needed to play to win. And with that recruiting class, I told him now ot's your program. It has nothing to do with me. And that's good for you and it's good for me.
Q: What went through your mind when he told you he had been offered the job?
A. We were at lunch, and he came back in and said 'you know what? They asked me to take the job. What do you think?' I said 'You don't have a choice.' He said 'what do you mean?' I said 'you're not coming with me to Kentucky. You don't have a choice'
Q: Another of your former assistants, Chuck Martin, is now the head coach at Marist. Is he the kind of guy who can turn that program around?
A. What he'll do is, he's one of those guys who everyone likes, and that bodes well in the recruiting process. He's a terrifric basketball coach. None of those jobs when you take over and they've been depleted are easy. Chuck and Derek Kellog (at UMass) took over jobs where the whole team left.
Q: One last one about the MAAC: With Siena threatening to enter the top 25, Niagara coming off a 26-win season and Rider having made some noise early this year, is the league's reputation growing among coaches throughout the country?
A: Here's the thing: You only play those teams if you understand you can lose. You're not playing them to get your Ws. You're playing Rider, Siena or Niagara on the schedule, you're playing those teams with the diea that you're going to learn about your team. They all have terrific players and you're going to find out if you're any good at all when you play them."