Taking it to the hole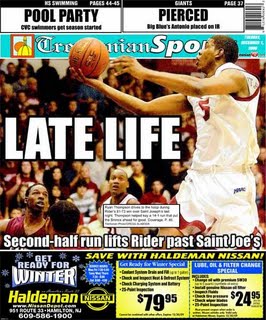 Tommy Dempsey has talked all year about his team taking what defenses have given it.
Mississippi State sagged back, clogged up lanes and tried to force the Broncs to win with long-distance shooting.
The Bulldogs' plan backfired when Rider shot 62.5 percent from 3 and won going away.
Lehigh defended Rider similarly, and the results were again impressive for the Broncs: They hit a school record 16 3s on 29 attempts (55.2 percent) and won by 15.
But after Rider's 2-0 start, the Broncs' performance didn't fit into Rider's philosophy.
When the Broncs had open looks, the shots stopped falling with such consistency. Often, the open looks weren't there, and there was no alternative mode of attack -- no dribble-driving, no pounding it into the low post -- to bail them out.
The deficiency was never more visible than in the Virginia game. Rider attempted seven more 3s than it did at Mississippi State, but made three fewer. At Kentucky, they weren't merely ducking and chucking -- only 17 of their 58 field goal attempts were from 3 -- but their lack of precision (4-for-17 for a season-low 23.5 percent) took what could have been a game and turned it into a massacre.
Stylistically, they may have been taking what the defense was giving them, but they looked out of sorts when the shots stopped falling.
In two of Rider's next three games -- a loss to Sam Houston Stat and a shaky win over a cast of walk-ons from Binghamton -- they shot below 31 percent from 3 each time and suffered the consequences.
Here's a look at how 3-point shooting affected the results heading into Monday night.
Opponent 3-point% Result
MSU 62.5 Won 88-74
Lehigh 55.2 Won 86-71
Virginia 30.4 Lost 79-46
Kentucky 23.5 Lost 92-63
FAMU 38.5 Won 88-73
SHSU 29.2 Lost 80-68
Binghamton 30.4 Won 58-50
Rider was either living (beating the 18th-ranked team in the country and easily handling a Patriot League contender) or dying (being thoroughly embarrassed in back-to-back games, then struggling in Cancun) by the three.
Given their lack of recent perimeter success, it's a good thing for Rider that Saint Joe's played agressive man-to-man Monday night, coming out on Rider's shooters and leaving itself vulnerable to being beat off the dribble in an
81-73 Rider win.
For the first time in a while, Rider took what the defense gave it and succeeded. The Broncs shot only 29.4 percent from 3 -- their lowest percentage in a win and their second lowest of the season, behind only the 23.5 against Kentucky -- but that didn't matter for the following reasons:
Only 17 of their 69 field goal attempts were from beyond the arc. That's 24.6 percent -- the lowest percentage of shots that have been 3s all year.

They outscored Saint Joe's 50-24 in the paint.

They owned the battle of the boards, winning the rebounding battle 44-32 (their widest margin of the year), including 17-7 on the offensive glass.

None of this is to say that beating the team picked 10th in the Atlantic 10 is a signature win. It's an important win from a recruiting standpoint (the game being on TV in greater Philadelphia didn't hurt), but not the type of win that Rider will be able to point to in March as evidence that it deserves, say, an NIT bid.
But it should give Rider fans a bit more confidence that if it's a MAAC game in January and the 3s aren't falling, the Brocns won't be without hope -- or other ways to put points on the board.