'Back to Earth'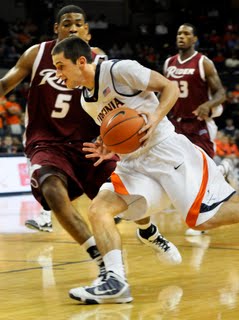 Here's the bad news for Rider: After being demolished 79-46 by the team picked 11th in the 12-team ACC, any talk that the Broncs are worthy of top 25 consideration is history.
The seven points the Broncs received in this week's AP poll? Certain to disappear, unless they can pull off a stunner Saturday in Lexington.
The national attention Rider was given after taking down Mississippi State? Nearly certain to disappear, at least until later in the year.
As Tommy Dempsey put it, "This will bring us back to earth."
Here, though, is the good news: Any talk that Rider was going to end up garnering consideration for an at-large NCAA bid was absurdly premature. Such a circumstance might have been possible eventually, but in order for that to have happened, Rider would have needed to do far more than win Thursday night and turn in a respectable performance Saturday. The Broncs would have needed to crush nearly everyone else on their non-conference schedule and probably lose no more than two games in the MAAC.
Even under those circumstances, an at-large bid would be far from a shoo-in.
With that in mind, appearing on more and more AP ballots in November and early December would have done absolutely nothing to move the Broncs closer to their only important goal: Winning the MAAC.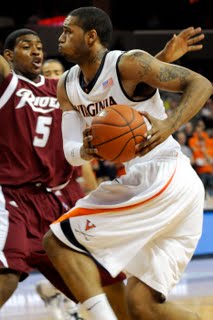 That means that no matter how loud that statement last Friday in Starkville -- and no matter how hard the thud last night in Charlottesville -- the Broncs' real season starts in December, when they'll host Marist in their MAAC opener.
That isn't to say these games have no value, or that a win Thursday would have been worthless. It isn't to say the Broncs gained nothing from their brief appearance in the national spotlight. It's simply to say that when you haven't been to the NCAA tournament in 15 years, your only important goal is getting there. And anyone who thought this team was going to lose in the MAAC tournament but sneak into the Field of 65 was delusional.
So what do we know about Rider through three games?
For one, they're as dangerous as anyone when they're knocking down 3s, but need to find ways to score when those shots aren't falling. They shot 62 percent from 3 against Mississippi State and 56 percent against Lehigh, but when they missed eight of their first 10 3s Thursday night, their offense fell apart.
Secondly, Ryan Thompson isn't the only player who can take over a game. The preseason MAAC Player of the Year hasn't led them in scoring in any of their three games. But there will be games when Mike Ringgold and Novar Gadson are quiet and Thompson needs to carry them. Thursday was one of those nights, and Thompson wasn't equal to the task, managing just nine points on 3-for-7 shooting.
Thirdly, one of their biggest problems last may not be fully remedied: Wild inconsistency.
Sure, every team in the country is inconsistent in some ways. In fact, it'd be hard to argue there's a team in college basketball
history
that hasn't had
some
inconsistencies.
But successful teams generally have a base level of performance that they're sure to deliver. They're capable of either winning games while playing poorly or at least avoiding embarrassing losses like the one Rider suffered last year at Canisius.
This Virginia loss is onl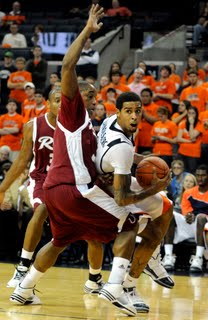 y one game. It might very well be the only real dud Rider turns in all year. But I was starting to develop an expectation that this team was good enough -- and consistent enough -- to never be embarrassed, no matter the opponent.
I thought a team that posted a double-digit road win against the 18th-ranked team in the country would show up every night, whether it be in Starkville, Charlottesville, Lexington or Poughkeepsie.
It turns out, I was wrong.
But that doesn't mean the Broncs will be embarrassed Saturday at Rupp Arena, or that they can be taken lightly by anyone. And it doesn't mean the trajectory of their season has been radically altered, even if, as Dempsey pointed out, walk-ons were knocking down shot after shot.