Rider at Virginia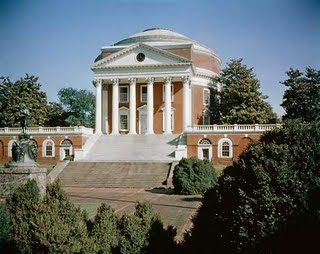 Rider plays at Virginia tomorrow night that poses an interesting test for the Broncs.
These aren't your father's Cavaliers or even your older brother's. They finished 10-18 last year -- their worst record since going 9-17 in 1966-67 -- and coach Dave Laito was fired as a result.
Still, it's a road game against an ACC opponent and an opportunity to head into Saturday's meeting with Kentucky unbeaten and confident.
Is it Cameron Indoor or the Dean Dome? Hardly. But although Rider's already-high expectations have gotten even higher over the last week, it's far from a shoo-in victory.
The game at a glance:
WHEN: Thursday, 7 p.m.

WHERE: John Paul Jones Arena
ON THE AIR: Radio: 107.7 FM, www.gobroncs.com (Daryl Fein, Steve Rudenstein)
RECORDS: Rider is 2-0; Virginia is 1-1
SERIES: First meeting
SCOUTING RIDER: The Broncs, 2-0 for just the second time since 1974-75, have used lights-out perimeter shooting to beat Mississippi State and Lehigh. Rider is 26-for-45 (58 percent) from 3-point range, and made a school-record 16 3s against Lehigh. Novar Gadson is averaging 20.5 points and nine rebounds, both team highs. Mike Ringgold (13.5, seven) is the reigning MAAC Player of the Week after scoring 21 points at Mississippi State. Ryan Thompson is averaging 17.5 points, five rebounds and 3.5 assists. Justin Robinson (14.5 points, team-best four assists) is 4-for-5 from 3-point range. Jermaine Jackson (1.5 points, 3.5 rebounds) has been plagued by foul trouble and inconsistency.
SCOUTING VIRGINIA: The Cavaliers, led by 2009 ACC Rookie of the Year Sylven Landesberg, are coming off a lackluster performance in a 66-49 loss at South Florida in which Landesberg was the only player to reach double figures in scoring. Landesberg, a 6-foot-6 guard averaging 18.5 points, poses Virginia's biggest threat, but 6-4 guard Mustapha Farrakhan (10 points per game) and 6-8 forward Mike Scott (10.5 points, nine rebounds) are also averaging double figures. The Cavs' other two starters are 6-4 junior guard Jeff Jones (8.5 points) and six-foot guard Sammy Zeglinski (eight).
SIDELINES: Rider received seven points in this week's AP poll – the first time the Broncs have received votes in school history. … Tony Bennett, the 2007 national Coach of the Year while at Washington State, is in his first season at Virginia. … Tonight's game is the first of four Rider will play as part of the Cancun Challenge. The Broncs play at Kentucky Saturday and will take on Florida A&M and either Sam Houston State or Oral Roberts next week in Cancun. … Farrakhan is the grandson of Nation of Islam leader Louis Farrakhan. ... The Cavaliers are 13-0 against current MAAC members. Their last game against a MAAC team was a 98-59 thumping of Loyola during the 2005-06 season.

... What are everyone's expectations? Should Rider be expected to win? Would it be a big-time win if Rider is victorious?