Pete Iorizzo on Siena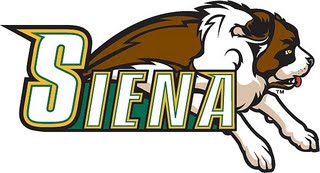 It's Rider-Siena time, which means time to exchange Q&As with Pete Iorizzo of the Albany Times Union.
My answers to Pete's questions are at his
blog.
Q: It's obvious that the writers who ranked the Saints in the preseason
top 20 didn't expect them to be 6-4 through 10 games. Were some of the
external expectations too high, or can you chalk up the losses to
injuries and better-than-expected play by opponents?
A: I think it's a little bit of both.
Do I still believe Siena is the best team in the MAAC? Yes, I do. But
the Saints not a Top 25 team, not the Gonzaga of the East and not a lot
of the other superlatives that were thrown around during the offseason.
And it's not all Siena's fault -- a lot of that stuff never was
realistic for a team that lost arguably the most transformative player
in program history.
Injuries haven't helped, particularly when Edwin Ubiles didn't play
against Georgia Tech.
But moreso than injuries, Siena just isn't as deep as I think it
expected to be. Clarence Jackson has done a fine job replacing Kenny
Hasbrouck in the starting lineup. But there problem is there's been no
one to replace Jackson as the sixth man.
Q: Speaking of injuries, how close is Siena to being 100 percent
healthy?
A: After 12 days off, Siena probably is as healthy as it's going to be.
The Saints will get a little deeper, because Kyle Griffin, a 6-foot-3
guard who transferred from La Salle, is eligible beginning Wednesday.
Davis Martens, a freshman forward from Germany, also is eligible Dec.
31.
Griffin could be a factor. Siena needs to find a way to get Ronald Moore
some more rest. If his role is spelling Moore a few minutes a night, the
Saints will take it, though I think he will add even more than that.
Q: If the season ended right now, Ronald Moore would have my vote for
MAAC Player of the Year. You with me on that?
I'm not sure there's a clear-cut favorite right now. Moore wouldn't be a
bad choice, though there also was a great case to be made for Niagara's
Bilal Benn (15.6 ppg, 11.0 rpg) before he got hurt. Canisius' Frank
Turner also is leading the league in scoring (17.1 ppg) while averaging
6.0 assists.
Somehow, though, the POY race also seems to come back to the
front-runners, doesn't it? A year ago at this time, who would have
guessed Kenny Hasbrouck still would end up winning it?
I have a feeling Ubiles and Thompson will be right there when all is
said and done.
Q: Gun to your head, how many MAAC games will Siena win?
A: Fifteen. Siena will split with Rider and Niagara and lose to someone
else along the way.
Q: I know Tommy Dempsey picking Rider to win the league didn't sit well
with Siena's fan base. How did it play among the Saints' players and
coaches? In more general terms, do the Saints view this as a big
rivalry game?
A: I actually just asked Moore that very question Monday. If he and his
teammates are using that as bulletin-board material, he gets an A-plus
for camouflaging it during our interview. Moore said he thought it was
the right move for Dempsey to make.
Moore's quote: "I feel that any coach should select his team to be No. 1
if he feels they're a good enough team to do so."
For whatever it's worth, I completely agree. There series has been
pretty even the past few seasons: Rider has beaten Siena two of the past
five times the teams have played. So why is it so outrageous for Rider
to believe it can overtake Siena and win the league title?
As to part two of your question, there's no question it's a rivalry
game. In fact Moore said, unprompted, that this is going to be viewed as
a statement game for both teams. This is Siena's chance to show it's
still the MAAC's top dog, and Rider's chance to back up Dempsey's vote.