Rider-Monmouth postgame quotes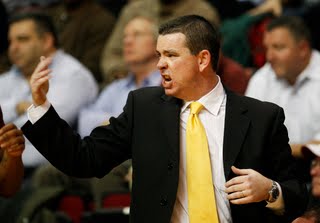 Rider coach Tommy Dempsey after the Broncs beat Monmouth 70-63 on a snowy Saturday in West Long Branch:
Opening statement:
Never an easy game. It's a little bit of a rivalry game. I think both teams get excited about it. I think both schools get excited about it. It's a road game against a well-coached team, so they never make it easy on you. It was a tough grind playing against the matchup and it's not secret we've been struggling to make 3s, so getting 40 minutes of zone, you kind of go into it hoping you're going to make some 3s and loosen up the defense. Once the 3s weren't falling we decided at halftime to try to spread the court with guards and attack.
I thought Jhamar was a huge key. I'm very proud of him. I know that he was excited to play in this game. I know he probably felt a little bit of pressure coming back here and didn't actually get off to the greatest of starts either, but just hung in there, drove the zone in the second half, made some big-time finishes, and I thought was the difference. I thought the play of Justin (Robinson) and Jhamar was the difference, and it had to feel good for Jhamar.
On whether Rider was happy to escape with a win or displeased with a sometimes-shaky performance:
Again, you're not going to always play great, but Monmouth played well. Sometimes, the other team's trying to win too. They're well-coached and Travis Taylor is a great player, and Campbell steps up and gets 27. You have 27 from Campbell on the perimeter and 20 from Taylor inside, it's not easy. We always focus on, if we don't beat teams by 20 it's always "what happened?" But at the same time, they played very well. We were fortunate to beat then, and we have to go get ready for Siena -- a game we've been looking forward to probably all year. So we're just fortunate to get out of here. We beat a team that played well today. They were 2-1 in this building, so I think they'll win a lot of games here.
Jhamar Youngblood, who scored 16 points in his first game against his former teammates and coaches:
A couple of those guys are my best friends: RJ and Kevin, I talk to those guys three or four times a week. We're really good friends. Even some of the students in the stands, so it was fun playing against them.
On being heckled by some of the fans, who booed him when he touched the ball and chanted "traitor" when he was at the free-throw line:
I just tried my best to block it out.
On his performance in the second half, when he scored 14 points:
All season, Coach Dempsey was just telling me "stay aggressive, stay aggressive." Sometimes I'm a little lackadaisical and I try to fit in with the team. Coach just tells me to stay aggressive, and I knew we needed some more offense out there. Ryan didn't have his best offensive game, and Justin played well, so I just tried to be aggressive like he asked me to.
Ryan Thompson:
On Rider's schedule and the Broncs' performance Saturday:
Coach gave us a good schedule, but he always tells us that any team can win on any given day. We didn't start off shooting the ball too well, so they got ahead a little bit. But we turned it around in the second half, played hard, starting getting stops on defense, and got the win.
On where Rider stands heading into conference play:
I still feel we're at the top of the league. We have a couple of things we need to work on -- a couple of minor adjustments. We still need to focus on playing the ball more and looking at the little things on defense and some things on offense, but I still feel like we're going to be good going into conference play.