Dempsey on Ryan Thompson, Part II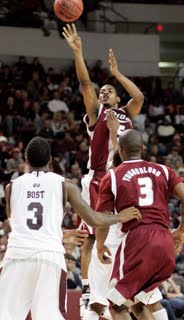 Tomorrow's paper will include a story on Ryan Thompson, who has scored 47 points over his last two games and appears to be breaking out of an early-season slump.
Eight NBA scouts were at Tuesday's Rider-Rutgers game watching Thompson, and you'd have to imagine they liked what they saw: 26 points, 8 rebounds and 4 assists in 42 minutes.
It's too early to tell much about Thompson's chances of being drafted. Some mock drafts have him as a second-round pick, while others don't have him being selected. But you don't have to look past Jason Thompson for evidence of how much draft stock can change during a season.
Heading into Jason's senior year, most people had him pegged as a player who would be taken in the middle of the second round. But after averaging a double-double, carrying Rider to the MAAC title game and dominating in nearly every game, he wound up as a lottery pick.
Where will Ryan end up? We won't get a crystal clear picture until much later in the year, perhaps not until the weeks or even the days leading up to the draft.
What we do know is that in order for Rider to contend for the MAAC title, the Broncs need Thompson to play like a pro.
With that in mind, here's Tommy Dempsey on the progress Thompson has made over the past couple of weeks:
"One of the things that makes him a really great player is that he takes what the defense gives him, and he says that a lot. That's a great quality, but not always the greatest quality for your star. That's great for almost everyone in your locker room. I'm always saying that -- take what the defense gives you. But when you have a guy like Ryan, sometimes they're not giving you anything. So you can't be afriad to take some bad shots. You can't be afraid to force it, because if you take what the defense gives you, their approach is, 'we're not going to give him anything.'
"Those are sometimes his quiet games, because he's not a guy who likes to force plays. In the last couple of games, he's forced some plays and forced some shots. When you're as talented as he is, you can still force them and make plays. A lot of guys, when they force it, they look bad. The special guys, they can force it and still look good. He knows he has some rope from me to take some bad shots. Your best players have some opportunities to take some shots and lead you to victories. It's the way I've been coaching him, and I think he's responded pretty well to it over the last couple of weeks."