Rutgers 80, Rider 70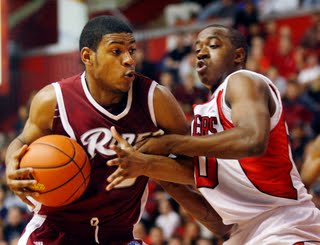 This was a game Rider wanted badly to win.
It's a rivalry game, though one that's only been played 15 times over the past half-century. The players all know each other, the coaches recruit a lot of the same players, and since the Broncs have only beaten the Scarlet Knights once, a win at the RAC tonight would have made the Broncs' steak taste extra good tomorrow.
That makes it a loss that's tough to swallow, especially since the Broncs got shut out in overtime, and since Rutgers, while technically a Big East team, is closer in talent level to Saint Joe's and La Salle than to Syracuse and UConn.
Yet just as the Broncs had no right to feel good about themselves after squeaking past Marist, they will leave here tonight feeling good about the direction of their season.
That's true for several reasons, but as I wrote in the game story I just finished, none are more important than the play of Ryan Thompson.
There were eight NBA scouts here, all watching as Thompson played against a team from the Big Six conferences for the fourth time this year. Rutgers may be a Big East doormat, but the Knights have more size (Hamady Ndiaye as a 7-footer) and talent (Mike Rosario a McDonald's All-American) than all but a few of Rider's opponents.
That makes Thompson's performance -- 26 points, 8 rebounds and 4 assists in a game-high 42 minutes -- especially encouraging.
You can tell that Thompson has lost some confidence in a jump shot that served him well last year. But knowing the 3s wouldn't be falling, and taking advantage of Rutgers' man-to-man defense, Thompson attacked the rim relentlessly and had encouraging results.
It was no wonder that when Rider needed a bucket to tie the game and force overtime, the Broncs turned to Thompson, who promptly delivered by scoring on a third-chance opportunity to tie the game at 70 with 12.5 seconds left.
Then it was Thompson, 10 seconds later, grabbing a rebound on Jonathan Mitchell's missed jumper and heaving the ball 70 feet in a desperation attempt to win it in regulation.
Where does that leave Rider after 12 games?
If I had sat down in November and tried to predict the result of every Rider game, I would have probably had them 8-4 in the games they've played so far, with the losses coming to Mississippi State, Virginia, Kentucky and either La Salle or Rutgers.
I would have picked them to beat Sam Houston State and either the Explorers or the Knights. I've never heard a coach predict the result of any game, let alone 12 of them, but I'd bet Rider's internal expectations were similar to mine.
That means from a win-loss standpoint, the Broncs are a half-step short of what they thought they would be, which is a top-tier MAAC team capable of routinely winning games like the one they lost tonight.
From an overall performance standpoint, they went from exceeding expectations early to falling far short of them from the Virginia game through the Marist game.
I don't think the Broncs are thrilled with where they are now, nor should they be. But by far their biggest concern during that late-November lull was the funk Thompson was in.
It's looking more and more like that funk is a thing of the past, and for that reason, Rider took a step forward tonight.