From down town ...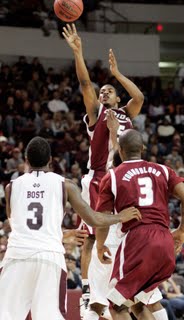 When Rider couldn't miss from beyond the arc last night -- the Broncs hit their first five 3-point attempts to open a 19-3 lead -- you wouldn't have blamed fans for expecting a score along the lines of something we'd see if Kansas played NJIT.
That, of course, isn't what happened. The game was never that close -- the closest Lehigh got was within five points mid-way through the second half -- but it wasn't an all-out slaughter, either, and that was predictable. Not ALL of those 3s were going to fall, and since Rider depended on 3s for more than half of its scoring (48 out of 86 points by the end of the night), repeated misses allowed the Mountain Hawks to stick around.
So I had to ask Tommy Dempsey after the game: Are you at all concerned that your team is becoming overly reliant on 3s? His answer said a lot about how Rider has averaged 87 points in its first two games.
"I think what people don't always realize is that you have to take what the defense gives you," he said. "... It wasn't our gameplan as much as it was a product of how Lehigh decided to play."
How Lehigh decided to play -- sagging back to seal off lanes to the hoop -- is the same way Mississippi State decided to play.
Both times, Rider took advantage of wide open shots with great precision. The Broncs shot 62 percent (10-for-16) from 3 against MSU and 55 percent last night, when they hit a school record 16 3s on 29 attempts.
That's a two-game total of 26-for-45 -- a whopping 58 percent.
Perhaps most encouraging for Rider is the number of players who have shot the lights out. Four players last night -- Ryan Thompson, Justin Robinson, Novar Gadson and Pat Mansell -- hit at least three 3s, with Thompson's 5-for-9 performance leading the way.
What remains to be seen is when teams will start defending Rider differently, and how the Broncs will react.
This team considers its athleticism a major strength, especially when Thompson and Gadson are driving to the hoop and Mike Ringgold is beating people in the low post. That's a big reason why Mississippi State and Lehigh both game-planed the way they did.
I'll be very interested to see what kind of defensive game plan Virginia comes out with on Thursday.
Even if the Broncs continue to get wide-open looks, its fairly unlikely they'll shoot close to 60 percent for the rest of the season. But if they're going to, as the old cliche goes, live or die by the three, they've proven when the looks are there, they're far more likely to live than they are to die.
...
Five quick hits:
A link to my game story in today's paper. Gotta hand it to Carl Johnson, who played three minutes but still manged to be featured on the back page.

Too bad ESPN can't have these college hoops marathons EVERY night. I've got Saint Mary's-San Diego State on as I type this, and I'm tempted to make some coffee and stay up for Saint Peter's and Monmouth, whose 6 a.m. tip is only two hours away.

Assuming enough people are up by 8 (or at least 9), the MAAC should get some good publicity today with Niagara playing Drexel at 8 a.m. and Siena playing Northeastern at noon as part of the marathon.
If you haven't done so already, take the time to read Chris Elsberry's column on Anthony Johnson's return from the blood clot that sidelined him last year and could have taken his life.

I've heard/read in a few places that Rutgers has clearly improved. If beating Marist by seven at home is evidence that you've improved, you have pretty low standards. And if the Knights are so "improved," how high will they finish in the Big East standings? If it's any lower than 12th, I'm not buying the "improvement" talk.