Iona 69, Rider 49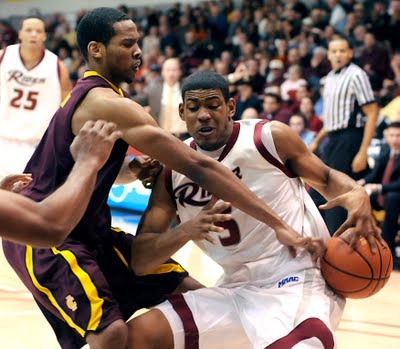 LAWRENCEVILLE — The diehards who stuck around until the final buzzer exited Alumni Gym yesterday in a state of bewilderment, not wanting to believe what they had just seen or what has transpired over the last two months.
Rider's 69-49 loss to Iona was a new low in a season that started with promise but has drifted far off course.
The Broncs, losers of three of their last four, were outhustled, outmuscled and outclassed by the Gaels (10-6 overall, 2-3 MAAC).
Iona, a team that has beaten Niagara and Providence but lost to Saint Peter's and Canisius, owned the glass and used a full-court press to befuddle Rider (9-8, 2-3).
The Broncs, once considered contenders for the MAAC title, have looked more like Marist in recent weeks than Siena. Yesterday was the fourth time in five MAAC games that they've trailed by 16 or more points — a stat few would have thought possible when the Broncs appeared on five Top 25 ballots in late November.
"Hard to find a lot of positives, or any," coach Tommy Dempsey said. "We're in a tough place right now."
Scott Machado scored 24 points and Rashon Dwight added 12 for Iona, which took the lead for good with 10:38 left in the first half and turned it into a rout down the stretch.
The Gaels out-rebounded the Broncs 50-32 and held them to 32.7 percent shooting — 22.2 percent from 3-point range.
Ryan Thompson scored 14 points, but only three in the second half, to lead Rider. Thompson, still struggling to get into a rythm, went 0-for-3 from 3-point range and fouled out with four minutes left.