The one and only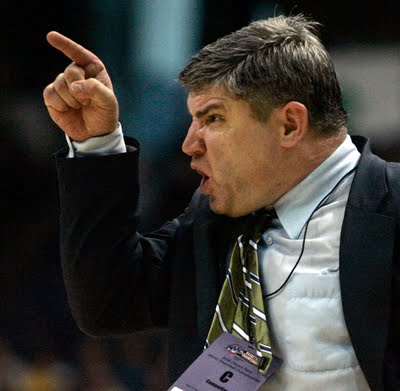 Meant to post this much earlier, but didn't get around to fully transcribing it today.
Here's six minutes of unfiltered Jimmy Patsos, who touched on Rider, Loyola and Brett Harvey -- the subject of a feature story in the Jewish Times -- after the Hounds' 68-66 win Saturday at Reitz Arena.
On Harvey, who led the Hounds Saturday with 21 points:
Brett Harvey, without using the word great, Brett Harvey is going to go down as one of the really good players here, but he's going to go down as a GREAT competitor here at Loyola. Brett just sometimes he's on, sometimes, he's not, etc. But he's a good player and he's a GREAT competitor, and that's a nice combination. I've seen a lot of good players. I've seen a lot of great players who are not great competitors, but he's got it down.
On Rider:
Tommy Dempsey and Rider are a good program. They've been to the finals, they've been to the semifinals. They've been to postseason tournaments. ... It's almost anybody's league. I know Siena has a lot of good players, but do they have the depth that everybody has? I think there are four or five teams that can contend for the title, and Rider's certainly one of them.
Is Loyola part of that top-half group?
I'll tell you in two weeks. We're close. We've got some size. We're young. We don't have a go-to guy but we're young. I think we have a chance to approach that. Say there are five teams, then another five. Five can win, then there's the other five. We're right there. I think Rider's already in there as the third or fourth best team in the league, with possibly the best player in the league. That gives you a real advantage.
On the Hounds' recent success:
The best we played was at Indiana this year, but what has carried over is winning. What's important is we lost the league and came back and won. We went to Bucknell, which is a tradition-rich program and gutted it out in a close game. We lost the lead, came back and won against Rider, who like I said has a guy on the all-Rookie team in the NBA, has been to the postseason, has a good coach and an even better AD who helps us coach, you have that and you have a guy who's probably a second-round pick. You have that, you have a chance.
They're Rider. I've known about that program for 15 years. ... The really good years, with Jerry Johnson, he was as good a guard as this league's ever seen. Jason Thompson's a pro, postseason tournaments, finals of the MAAC, that's why Rider's an elite program in this league. Just because they haven't cut down the nets like Siena has, maybe they would have if they hadn't moved the tournament from Trenton. No, I'm just kidding. But they've done really well. Rider, I'm making sure everyone understands how good a win that was for us.
On Harvey's Jewish heritage:
You know what no one knows about Brett? He's just an unbelievable family member. His family, their friends, they travel on the road. We're not a Jewish school, we're a Jesuit school. It's close, but it's a little different. We seriously, we have 4o courtside seats and 15 of them are Jewish. Fifteen out of our 40 courtside seats are Jewish people. Jewish people have a tremendous, tremendous, heritage here in Baltimore -- a tremendous sports heritage. The groups have gotten together.
What's amazing is, I didn't say I want a Jewish point guard, let's go out and recruit one. I just found a kid who's a good point guard. Next thing I know, I'm talking to his father, who played at Hamilton, and it's funny how it's worked out, because he's helped us with building our basketball program. It isn't just wins and losses, it isn't just about students. I don't care of you're Jewish, if you're Catholic, I don't care if you're black, white, I don't care. It's just coincidental that he's done a tremendous job. He culminates it for being a gold-medal winning team for Bruce Pearl. I got him a tryout, I didn't get him on the team. I can't do that. I got him in the gym, he made the team, he won the gold, and it's interesting because the beauty of today's day and age is it's just about being a good basketball player.