Kevin Willard on Iona, Rider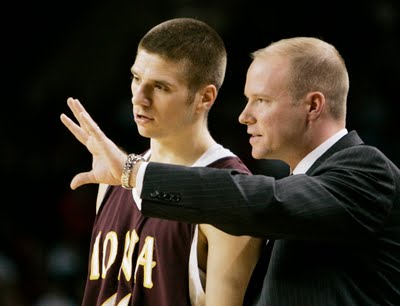 A few highlights from my talk yesterday with Iona coach Kevin Willard, whose Gaels play Rider tomorrow at Alumni Gym.

On the Gaels' play so far:

I think we've played pretty consistent all year. What I've been looking for in a night out night out basis is to be consistent. We haven't executed that well. We're 9-6 although we're 1-3 in conference. I think we're OK. ... You're trying to build up a program. Your expectations for the most part are to be a consistent team.

On the play of Scott Machado, the Gaels' leader in points and assists:
I think Scottie's come back he's had his field goal percenate up I think a lot of teams are focusing on him because we're running the offense thorugh him and he's focuinsing on that. He's playing really hard. He had to (be the top option) last year as a fresh so we're a lot younger this year than last year. …. We're starting another freshman at the guard spot. He's doing a good job helping this team.
On rebuilding the Gaels' program after a two-win season in 2006-07:

There's no easy fix. It's one of those things that when we got here we four of their top five scorers had left so we really werenl left with a whole lot of talent that was young it was a lot of guys who were older and once we got them to where we needed to go they graduated. …. It was almost once we started getting good Gary Springer left. Once we started getting used to playing with each other we lost some guys. We're had to do it through two recruiting classes. We've had to bring in a ton of young kids who have had to learn to play together.
On Rider:

You look at their schedule and I don't think anyone could look at their sched and say they'd be undefeated at this point. … To be 2-2 in the conference when you've played three out of four road games is pretty good. I think Tommy (Dempsey) has to be happy with where he is.

I'm a huge Ryan Thompson fan. I think he's terrific. You have to look at who they lost. Losing (Harris Mansell) last year for Ryan was a big loss because you have a guy who was a great shooter next to them. He does everything well he works hard on both ends and he's playing great basktball.
You go through their top five from (Jhamar) Youngblood averaging 7 points to Ryan averaging 15. Justin (Robinson) is having a great year. Someone who doesn't get a lot of attent and shoud is Mike Ringgold. He brings it every day is a tough son of a gon. He doesn't get a lot of attention. He's a guy that doesn't get talked about a lot and shoud. He has that great nack of finishing around the rim. You look at him and say that kid can't play but he's going to get 12 and 7.
On the Broncs' shooting slump:

I think they're really a very good shotoing team. I think they have played six straight road games. This is going to be our fifth of six road games now you don't always shoot as well on the road as you do at home. That can skew stats just a little bit too. You're always at the other team's place theyre' a little more pumped up. … I thin Ryan's a good shooter obviously Justin, (Novar) Gadson can shoot, he can make shots too. I look at the stats and think of them as a good shooting basketball team.