Catching up with Jason Thompson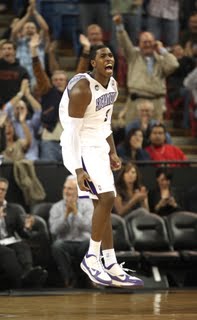 Had Jason Thompson fouled out 10 minutes into the Kings' game last Friday against the Rockets without scoring a point, it still would have been a good night for the Thompsons.
Sure, Ryan was relatively quiet in Rider's win over No. 18 Mississippi State, but he still helped lead the Broncs to their biggest regular-season win in school history. So if Jason had bombed, you wouldn't have blamed him for being upbeat anyway.
But when I talked to him yesterday, he was in good spirits partially because he had thrashed the Rockets Friday with 27 points and 11 rebounds.
"Before the game I tweeted (about the Rider)," Thompson said. "People were trying to say 'you guys aren't going to get a win,' but then I was asking around and we won, and I got even more hyped for our game. I can only imagine how it felt for them because I know how hyped I was, and I wasn't even there."
JT is on a roll of late, averaging 20.2 points over his last five games. Making the run more fun is the high hopes he has for the Broncs.
"I was excited for them before (Friday's) game," he said. "I wished them good luck throughout the week and said I hope they get the upset. They started the season on a good note in a hostile environment."
"(Ryan) stepped up," Thompson said. "So did Mike (Ringgold) and Novar (Gadson). My brother might be the go-to guy, but they have a lot of weapons."