The Stunner in Starkville: Rider 88, Mississippi State 74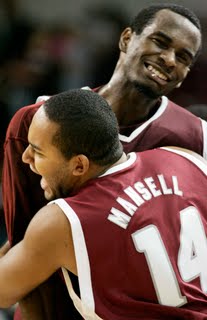 This isn't always the case when a MAAC team plays at the 18th-ranked team in the country, but I talked to Tommy Dempsey and Rick Stansbury before Rider played Mississippi State, and both coaches seemed to legitimately think Rider had a chance to win.
Stansbury raved about Rider's size and athleticism.
Dempsey, consistent with the tone he's taken since September, said he believed the Broncs could win.
I'm sure neither coach knew it would play it quite the way it did: An 88-74 Rider win.
Mike Ringgold, who Dempsey called "the toughest dog in the fight," took the ball right at reigning NCAA shot-blocking leader Jarvis Varnado, and ended up with 21 points, helping the Broncs beat a ranked team for the first time in school history.
Novar Gadson muscled his way to a 21-point performance of his own. Rider won despite only 16 points from Ryan Thompson -- two points below the 18 per game he averaged last year.
Dempsey told me the Broncs aren't "as shocked as everyone else is" that they won.
That's sure to enrage some of his detractors, but the reality is that through one game, his players have justified the confidence he's showed in them.
Does that mean Rider is now favored to win the MAAC? No. Siena entered the season as a borderline top 25 team for a reason, and in their dismantling of Tennessee State, the Saints didn't show any signs of being overrated.
But it does mean Rider has to be viewed as the kind of team that the MAAC should be proud of, and as a team that should be taken lightly by no one. It means there's no reason to think they can't come out of the non-conference portion of their schedule looking very, very good.
How good, obviously, remains to be seen. It's possible Mississippi State will turn out to be a complete fraud and in January, this win won't look as impressive as it looks now.
It's also possible, though, that the Broncs could be as good as Dempsey thinks they are. And as he's said on numerous occasions, he thinks pretty highly of them.
That's why when I talked to him on the phone after the game, he gave no "holy-crap-I-can't-believe-this-is-happening"-type speech.
His comments actually sounded a lot like comments he'd have made if Rider had beaten Iona instead of Mississippi State.
"We played hard," he said. "We had no turnovers in the second half, and we never really let them get on a run. Is it a statement win? I don't know. I don't think we're as shocked as everyone else is. I think we have a good team. I think we're going to have a better team than last year. We wouldn't have won this game last year."
And Dempsey concluded his remarks with a dose of coach-speak that may drive fans nuts -- but also may work in the locker room.
"They deserve to be congratulated," he said. "They got a huge win for the university, but we have no time to sit around and have people tell us how good we are.
"... We have to prepare for Lehigh."
***
A few more notes before I hit the road for a jaunt to Western Massachusetts. (Plenty more when I return on Sunday):
A link to the AP gamer, in which Mississippi State's Kodi Augustus took a few shots at Stansbury. "I talked to my dad," Augustus said. "He said we got outcoached. I don't know. But I looked at it, I only played 15 minutes the whole game. Yeah I'm (upset), but like I said, I can't do nothing about it. I played all those minutes the exhibition games and then you come and play me 15 minutes? Wow."
The box score: The stat that stands out the most is Rider's 3-point shooting: The Broncs were 10-for-18 from behind the arc. Thompson (4-for-6), Gadson (2-for-2), Justin Robinson (2-for-2) and Pat Mansell (2-for-3) were a combined 10-for-13 from long distance. But this wasn't just a case of an underdog gun-slinging its way to victory. Rider also out-rebounded the Bulldogs 38-37.
I can't recall a better night for the MAAC in non-conference play. The league went 5-2, and those two losses -- Saint Peter's at Seton Hall and Niagara at Auburn -- BOTH came after the MAAC team had the lead with less than a minute remaining.

Speaking of the MAAC's out-of-conference performance: What is it with underdog MAAC teams playing opponents from the SEC? First Siena clobbered Vanderbilt in the 2008 NCAA tournament. Now Rider has crashed Mississippi State's SEC-tournament-championship-banner-raising celebration, and had it not been for an awful last two minutes, Niagara would have made it 2-for-2 tonight for the MAAC.