Good jobs by the Stags and Steelers; bad job by me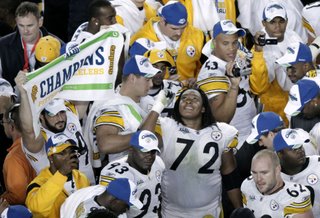 I made a few predictions yesterday, and depending on how you look at it, either all of them or all but one were wrong. My bad.
For what it's worth (probably nothing) had I made a prediction on the
Rider-Canisius game
, I would have taken the Broncs to win and cover the eight-point spread. That happened, and even though it wasn't the prettiest game I've ever witnessed, it was good enough, especially in a season in which the inexplicable seems to happen almost on a daily basis (see: Saint Peter's winning at previously surging Iona), for Rider.
But I botched the Fairfield-Loyola game. I wrote – I think, with good reason – that I didn't see Fairfield beating a Loyola team that had won six straight and was starting to look like a top-tier team in the league.
But the Hounds didn't come through. My alma matter, on the other hand, not only won, but
won big
, thanks in no small part to a wicked awesome performance from Greg Nero.
Then came the Super Bowl, which I kind of, sort of watched while editing/designing The Trentonian's sports section.
I missed spectacularly on my prediction that the game would be less exciting and interesting than today's MAAC basketball games. I also guaranteed a double-digit Steelers victory, and Ben Roethlisberger and Co. let me down. Thankfully, though, thanks to
San the Man
, I at least had the right team winning, so I'm going to count my Super Bowl prediction as a partial success.
Also, I brought this up during the
Mirror gamelog
of the Fairfield-Loyola game, and some of the fans following along put in a good effort, but returned no answers: Can anyone think of a non-Bay State team other than Loyola (Brian Rudolph from New Bedford, Jawaan Wright from Agawam) that starts two players from Massachusetts?