Mohegan Sun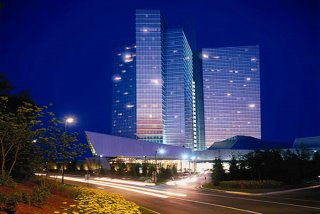 As I wrote
in today's paper
,
Mohegan Sun
looks like the frontrunner right now to host the MAAC tournament in 2012-14.
Someone with knowledge of the league's plans told me the council of presidents -- which will ultimately make the decision -- wants to put the tournament at a neutral site, at least for the time being.
The presidents won't formally accept bids until this spring, and won't make a final decision until December.
So talks that have gone on so far are just in the early stages. This doesn't mean that other neutral sites are out of the running or that it's completely impossible a place like Albany or Bridgeport could swoop in, blow the presidents away with their pitch and end of landing the tournament.
But it looks like right now, Mohegan Sun is the frontrunner.
As we discussed last summer, it's a little out of the way for some folks, since to get there you have to drive past Fairfield -- the MAAC's eastern-most school -- on I-95, then keep going for another 65 miles.
It's not an apples to apples comparison because Baltimore is so far from most of the other schools and Fairfield is relatively close, but that'd be a little like having the tournament in Washington, DC, which is 40 miles south of Loyola, the southern-most school in the league.
But if you're shooting for a purely neautral site, this fits the bill. Fairfield is the closest school, but Fairfield fans are going to have to get in a car and drive and hour and a half, meaning their drive isn't much shorter than fans of other schools in the New York area.
Clearly, there's no shortage of lodging and/or entertainment options at Mohegan Sun. The question I think needs to be asked is this: is it close enough that fans who don't want to pay for a hotel room will make one or more day trips to watch their teams play?
What do you think?