Keith Connors on Fairfield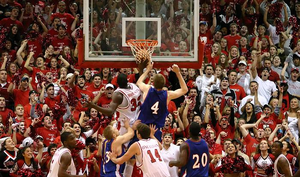 In preparation for my homecoming tonight to Fairfield, I swapped Q and As with Keith Connors, who, along with Tom Cleary, makes up the best one-two college newspaper punch in the MAAC. (That's for men's hoops. For women's hoops, your guy is Chris Simmons.) My answers to Keith's questions are at the
Mirror sports blog
. Keith's answers to my quetions are below.
1. Can you quantify the difference between a Fairfield home game at Harbor Yard and one at Alumni Hall?
As anyone connected with Fairfield basketball will say, comparing a game at Alumni Hall and a game at Harbor Yard is the equivalent of comparing a spring training game in Tampa to a playoff game at Yankee Stadium - as much as they try, it just isn't the same. The Stags may rank second in attendance in the MAAC this season, but much of that stems from a loyal alumni network or the travel prowess of their competitors (there were no shortage of green at the Siena/Fairfield game last weekend). But ask any player or coach off the record, and they'll roll their eyes at the so called "home court advantage" of Harbor Yard.
Still, it is worth noting two things: 1) Ed Cooley has repeatedly gone on record as saying that Harbor Yard is "his home," and that he plans on establishing his program's identity through that building; and 2) in the past two seasons, the Stags have split their Alumni Hall games (first year loss in double-overtime to American; last season dropped a December game to Yale). I've been told that Cooley was so dismayed at this that the team has made an effort to practice more at Alumni Hall to feel more comfortable in a court that better simulates a "game environment".
So, to answer that question in a roundabout way, the Stags' 3-2 record at Alumni in the past three years does not give justice to the difference.
2. Seems like the Stags have really missed having Warren Edney at 100 percent. What type of impact has Yorel Hawkins had while Edney has tried to work his way back to full strength?
Edney opened eyes with his 24-point effort against Memphis on opening night, and, given his successes in the team's opening weeks (led the Stags in scoring in three of first four games), seemed poised to become the Stags' "go to guy". Then came the injury. He logged 20+ minutes against Siena last Sunday, but he looked lost from the outset and was favoring his leg while merely jogging up and down the court. There is no question he's still feeling ill effects of that Achilles' injury.
In his place, Yorel Hawkins has become a decent scoring threat at the 3 position. To better illustrate Hawkins' influence on the team's success, take these two games over break: in an abysmal road loss to Iona, Hawkins totaled a paltry three points in 28 minutes. Five days later, he totaled 10 points and 17 rebounds in a Fairfield win in Baltimore while Jimmy Patsos was having an ulcer on the sidelines.
Inconsistent? Sure. But assuming Edney returns to full strength at some point this season, Fairfield has found itself a legitimate bench option. To quote the great Joe Pa, "Teams don't lose because of injuries, they win because of them."
3. Is Greg Nero a different player this year than he was last year in spite of the back problems he's had?
It really has been night and day. Anyone that watched Nero as a freshman and then saw him again as a sophomore would have been stunned by the difference. Tom and I have heard Nero attribute much of his sophomore slump to mental errors and a lack of confidence. He even admitted his early-season struggles at the free throw line were nervousness. Chalk it up to a kid growing up. The dazed sophomore in the dog house that was often yelled at by the likes of Marty O'Sullivan is now confident, poised, and leading by example - and the numbers prove it. Fran McCaffrey said at the conclusion of last Sunday's game that Nero is back to an "All-MAAC level". I'd agree.
4. Is is true you and Tom are going to sit in the student section instead of at press row? What's up with that?
Haha. It's been an idea we've tossed around a little bit this week. As much as we love writing for 'The Mirror' and experiencing a unique look at Fairfield basketball, there is something about the mystique of Alumni Hall and seeing an on-campus showdown against Rider with second place on the line from the "other" side. After all, what college guy doesn't dream about a game like this only a few feet from his/her dorm? I can honestly say that I will definitely be covering the game, but I do miss the days when I'd tailgate and paint my face red for Bergen Catholic/Don Bosco football games in North Jersey.
5. What's your prediction?
My bold prediciton is that one of these two teams will play in the MAAC Finals, and here's why: Assuming that Siena runs away with the first-place seed, that leaves Fairfield, Rider, and Niagara to vie for the second seed and the other "bye" in the opening round (to play the winner of a PIG game). The Purple Eagles may have wiped the floor with the Broncs last weekend, but have yet to travel to Lawrenceville, and still await two games against both Siena and Fairfield (and an always dangerous NYC road swing against pesky Manhattan and Iona). I'd like to think that a tough schedule (and it's never easy travelling from Buffalo) for Niagara in the latter part of the MAAC schedule means that they will not be the MAAC's two seed.
That leaves either Fairfield or Rider. And while I have yet to see the Purple Eagles in person, I can assert that: 1) Rider did awfully well last year in the tournament and return all but one big, big part of their team, and 2) Ed Cooley is due for some tourney luck. Therefore, I'm going on record as saying either Ben or I will be blogging live on March 9th.
(Knocking on wood)