What to make of Rider's win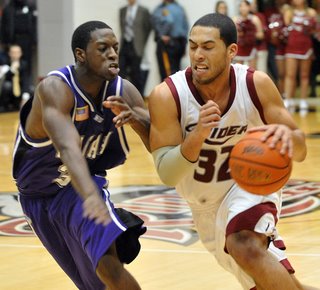 Thanks to everyone -- if in fact, there was anyone -- who followed or attempted to follow along on our coveritlive debut. I'll score it a partial success since it worked for at least some of the game but bailed -- because of crappy wireless in the gym -- when it would have been most fun down the stretch.

If nothing more, I'm pretty confident it'll work well for the MAAC tournament, which after all, is what this league (and by extension this blog) is all about in the first place.

When this thing was finally over, Rider had a win by a score almost identical to its win over Siena (90-87 versus 90-88), which is fitting in a way, since these two wins stand out as by far Rider's biggest of the regular season.

The post-game press conference, as you can imagine, was pretty lively. It was also a lot different from the one following the Siena game even though both games came down to the wire and resulted in Rider wins.

After the Siena win, Tommy Dempsey went out of his way to say that it was NOT that much of a statement win -- that though it would be portrayed by people like you and me as a monumental upset, in the Broncs' locker room it didn't come as a major surprise.

Tonight was different. It wasn't that Rider thought this was a monumental upset, though I'm not sure many people thought it was given Niagara's status as a 3 1/2-point favorite coming in.

But Dempsey DID say it was a statement win -- one that showed, he said, that the MAAC doesn't have a two-horse race with Siena and Niagara battling down to the wire and everyone else simply looking on.

"We believe that there are more than two teams – not that there's only three – but there's more than two teams that can win the MAAC championship," Dempsey said. "I think people were acting like it's a two-horse race right now and they're not including us in that. I thought tonight was a statement that especially after beating Siena, Niagara and Siena are not the only two teams that can go to the NCAA tournament."

That, really, is what this season comes down to for Rider.

The Broncs were picked third in the preseason coaches' poll and fourth by most publications. Niagara was picked fourth in the poll (though only one vote behind Rider) and second or third by most publications.

Siena, of course, was picked first by every single person, poll or publication, and for good reason. So the question heading into the season was "can anyone contend with Siena?"

I think that question is still largely unanswered.

If Siena had run the table in the regular season, the answer heading into the tournament would be an authoritative "no." But it's hard to say they're unbeatable when they have, in fact, been beaten.

Under some circumstances, that one Rider win over Siena would have solidified Rider's status as both the second best team in the league and as a bona fide challenger to Siena's crown.

Entering tonight, though, it was pretty clear that Niagara had the second best resume in the conference. The Eagles had won seven straight, proved their worth both at home and on the road, and been able to claim that they hadn't yet been mathematically eliminated from the regular season race while everyone below them in the standings had.

Rider, meanwhile, had been SO shaky in its previous two games and has been SO up and down this season that you couldn't be blamed for thinking they didn't have much credibility. Afterall, what kind of powerhouse team loses by 18 to Canisius?

Dempsey is well aware of all that, and that's why he said -- rightly so, I think -- that in order to be seen as a credible contender for the title, you have to beat the best teams in the league at home.

That the Broncs blew a 19-point lead in doing so is less important than the fact that they did it, and the fact that if they beat Loyola next Thursday and Siena beats Niagara next Friday, they and Siena will be the only teams to have beaten everyone in the league during the regular season.

"Siena comes in here, if you're a legitimate program, you beat them," Dempsey said. "Niagara comes in here, if you're a legitimate program, you have to win these games. I think these are the games that make you. If you're going to be an elite program in this league, you have to win these games, and we've been able to do that in the last couple of weeks."

So what to make of it?

I asked Joe Mihalich about Dempsey's two-horse-race comment.

"I never felt it was a two-team race," the coach said. "We still feel the same way. We're having a great year, but shoot, we still feel like Siena's the best team and we're all chasing them. I don't feel like it's a two-team race."

I think that about sums it up. I do think it's worth noting that if Niagara beats Siena then takes care of business against Marist, the Eagles will have finished only two games behind one of the best teams in MAAC history. That's a pretty big accomplishment.

But keep in mind that even if that happens, no one will have beaten Siena in Albany, and beating Siena in Albany is what it's going to take to win the tournament.

The whole concept of a two-team race is a little foolish right now because as far as the tournament goes, it really, truly is a 10-horse race. It's a race, in my view, in which Siena is the overwhelming favorite, with Niagara second on the odds list and Rider third.

What the Broncs showed today is that on that list, they aren't miles behind Niagara. At the same time, they showed Sunday that they aren't miles ahead of Manhattan, either. The Jaspers have played good ball of late and are capable of beating Siena if everything goes their way and Siena has an off night.

Part of the beauty of postsason college basketball is that not only do the best teams not always win, but the best teams often lose to vastly inferior teams. Otherwise, they would tell teams seeded 12 or below in the NCAA tournament to not bother showing up.

So what to make of the Broncs? They're dangerous. So is Niagara, so is Manhattan, so to some extent are Iona, Loyola and Fairfield. So, to an extent, is Marist, who had Siena on the ropes earlier in the year and blew out Niagara. But when the Broncs show up in Albany, they won't look at any of their opponents and think "we can't beat them."

That's one reason tonight was important.