PMI, Week 10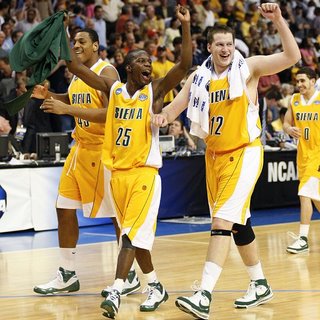 Today we get to the first real stretch-run edition of the PMI, in which the top two teams are the same they've been all year and the rest of the pack – for now – is identical to the MAAC standings.
Even if Siena wraps up the regular season title as early as tomorrow, there's still plenty to figure out. Among the questions left to be answered are who will end up on which side of the bracket (the 4 seed could see Siena in the semifinals while the 3 seed won't) and who will be playing on Friday in the play-in round.
Nice job out of Boston.com's
Chad Finn
, who dug up a baseball card of former Red Sox infielder
John Kennedy
in honor of Presidents' Day.
The Index:
1. Siena (21-6, 15-1, 29)

One more Saints win or Niagara loss makes the inevitable official: Siena will be regular season champ and top seed in conference tourney. BracketBuster Saturday against MVC leading Northern Iowa will be an interesting measuring stick.
2. Niagara (21-6, 12-3, 62)
After seventh straight win, it's more clear than ever Eagles are a step ahead of everyone but Siena. That it's mid-February and they're technically still in contention for top spot speaks volumes.
3. Rider (14-11, 9-6, 158)

Broncs looked a whole lot better last week, and suddenly, No. 3 spot isn't a sure thing. Good news for Rider fans is this: beat Niagara, and you can forget about those back-to-back losses.
4. Manhattan (15-11, 9-7, 140)
No Devon Austin, no problem for Jaspers, who have won four of five. Chris Smith can play, Daryl Crawford to shoot, and they'll be dangerous in Albany.
5. Fairfield (15-12, 8-8, 95)

Good news: Young guys have been more than respectable with four best players out for the year. Bad news: This just isn't where Stags wanted to be in late February, and success next month is improbable.
6. Iona (12-15, 7-9, 173)
Gaels have lost four of six and need to finish strong to avoid play-in round. Scott Machado is in thick of Rookie of the Year discussion, but it's a bad sign that he might be their best player.
7. Loyola (11-17, 6-10, 181)

Loss to Canisius – team's fifth straight defeat -- wasn't what Hounds fans wanted to see down stretch. Win would have pulled Patsos and Co. into sixth-place tie with Iona, but play-in round now looks likely.
8. Saint Peter's (8-17, 5-10, 247)
Suddenly, Peacocks have won three straight and might not be a pushover in Albany. Wesley Jenkins should be on all-conference team, and John Dunne deserves kudos for keeping team afloat.
9. Marist (8-19, 4-11, 260)
Loss at Saint Peter's is further confirmation of what we found out over the past month: Foxes aren't much better than we thought they were in November.
10. Canisius (8-18, 3-13, 219)
Once in a while, Golden Griffs give us a reminder that they're not utterly hopeless. Win at Loyola was one of those times, and Frank Turner – only player in league averaging 15 points, 4 boards and 4 assists -- keeps getting better.