Homecoming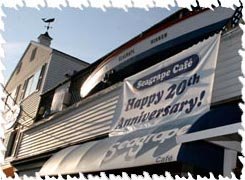 I'm on vacation from my desk job, and using most of the time off to visit people throughout New England.
Yesterday, I made a guest appearance at Fairfield to check in with the crew at The Mirror and made a quick pit stop at The Grape, which, despite a small crowd because of finals, is still a must-go if you're in the area.
There were two major topics of conversation: The men's basketball team and what is now a six-game winning streak, and Elise Young's status as a new-found TV star on "A Double Shot at Love."
I was impressed with the number of Mirror staffers who actually watched last week's episode. I don't know what's going to happen next week, but I do know MTV will have better ratings in Fairfield if Elise is still around for at least another week.
As for the Fairfield men, man, they didn't make things easy on themselves last night against a really, really bad Fordham team. But let's be fair: Even though you'd have to say that the Rams wouldn't finish in the top half of the MAAC, barely winning at Rose Hill Gym isn't the same as barely winning at NJIT. And no matter where you are -- especially if you're a team that hasn't done a whole lot of early-season winning -- barely winning sure beats losing.