Story lines in December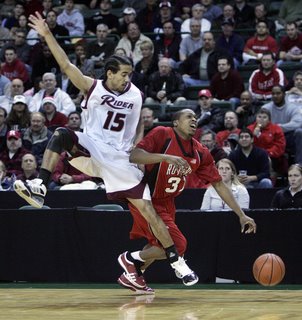 When I was in college I became a huge fan of the month of December.
Sure, final exams were rough and there were plenty of all-
nighters
to write 20-page papers I put off until the very last minute possible. But classes are done by right around now (Rider's exams, for instance, started yesterday) exams are over quickly, then you get the rest of the month to just chill out, relax, watch basketball, or do whatever else you feel like doing.
It's also the time of year when, as I alluded to in my conference play post a few days ago, college basketball season starts to heat up. There is, indeed, some conference play in leagues like the
MAAC
that get started early. More importantly though, some of the story lines that will take us all the way to March start developing right around now.
We all know that sometimes the most important stories start and end in March. Had last year's
Siena
team not come from behind to beat Loyola in the
MAAC
semifinals -- the Saints faced a double-digit second-half deficit -- their season would have been fairly irrelevant. But they came back, crushed Rider in the
MAAC
title game and famously clobbered
Vandy
in the first round of the
NCAAs
.
But throughout college basketball and the
MAAC
, some story lines are starting to shape up. In
Lawrenceville
, we don't know a ton about what kind of team Rider is going to be, but we at least we know Ryan Thompson scoring in double figures
isn't a

prerequisite
for winning.
In Albany, we don't know too much yet. Had the Saints beaten Tennessee and gone unbeaten to this point, they could have reaffirmed all the preseason hype and garnered strong consideration for the Top 25. Had they lost to Albany the other night, plenty of people would be calling them a fraud. That story line is still developing.
In Buffalo, we know that Niagara's two Big East transfers have fit in nicely. That was a prerequisite for the Purple Eagles contending for a
MAAC
title. I think they've played well enough so far to show that they're capable of doing that. Across town, we know the Golden
Griffs
just don't have it. A loss to Saint Peter's is one thing. A blowout loss in a season in which no other signs point to considerable improvement is another thing all together.
In
Poughkeepsie
, I have two thoughts, both of them positive, regarding the team that was picked dead last in the preseason coaches' poll:
1) Chuck Martin is the right man for the job. Young teams don't win close games unless they're exceptionally well coached. In their last two real games -- playing at Memphis isn't a real game for a team like that; it's just a pay day and, in this case, a reunion between Martin and his old boss -- the Red Foxes have two wins that were decided by a combined three points, including a gutsy win over Iona in their
MAAC
opener, when
DeJuan
Goodwin's jumper won it in the closing seconds.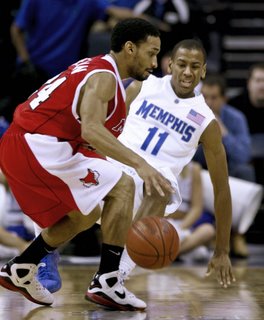 2)
Marist
has never won a
MAAC
tournament title, but the program is fundamentally sound. That's evident because good coaching alone can't win games like the last two, and it doesn't seem like anyone on the Foxes' roster is afraid of playing in games that go down to the wire.
In New York, we know both teams, to quote Dennis Green, are what we thought they were. Iona is getting better, without question. Taking Wisconsin to overtime at the Paradise Jam was proof of that. But if the Gaels were THAT much better, they would have found a way to beat
Marist
. They get credit for taking
Fairfield
down to the final seconds without Gary Springer, and it remains to be seen how they'll play in the league at home. I think the story line for the year will prove to be that in many games, they're a shot here or a lucky bounce there away from a win, but they go home empty.
As for Manhattan, like their Big Apple rivals, I think the
Jaspers
are a year away from being really good. But neither Devon Austin nor Chris Smith nor anyone else is good enough to be the centerpiece of a real contender. At least not yet.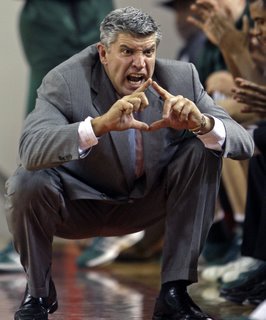 In Jersey City, there isn't a complete absence of talent, but I'd be shocked if the Peacocks finish better than seventh in the league.
In Baltimore, we know two things: The Hounds are going to struggle this year and the shenanigans from Jimmy
Patsos
(left) are going to keep on getting crazier and crazier. The latest? This
e-mail
, courtesy of Pete
Iorizzo
of the Albany Times Union, that
Patsos
sent to
PTI's
Tony
Kornheiser
and Mike
Wilbon
. Thanks to friend of the blog and former Rider News sports editor Charlie Guthrie for sending me the link.
And in
Fairfield
, we know getting the
students
to the Arena isn't going to be easy. Trust me, it isn't Ed Cooley's fault. I don't think it's the fault of anyone in the administration either, though I don't think that's cause for Gene Doris and Co. to throw up their arms in surrender.
On that topic, just one reminder to fans who are really down on the students: Look around the
MAAC
. There's no shortage of schools where the student support is lacking for games on campus, let alone off campus. Even Rider, which prides itself on good student support, couldn't get more than 25 or so students to travel five miles to Trenton for a game last week against Rutgers -- an in-state rival that the Broncs beat last year for the first time in school history. And I admittedly have a big-time conflict of interest here being a Mirror alum (I even garnered an invite to the end-of-semester dinner next week), but can someone please inform me of another mid-major school whose student newspaper has live video half-time reports on its
blog
? There may not be students in the seats, but there are students who care a whole lot. That translates into
alums who care
(there's no shortage of them out there now) and that's good for the program.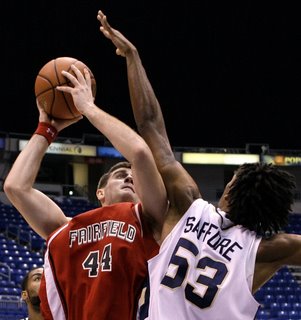 As for the basketball all those students are missing, the Stags are like Rider in that they don't need their best player to take over in order for them to win. It's different for the Stags because their best player is their point guard (Jonathan Han) which means he can't just straight-up disappear if they want to succeed. But I think the story line here is depth -- not necessarily the kind that gives you 10 guys who contribute, but the kind that gives you three or four guys who can take charge on any given night. (
Siena
has that kind of depth with Kenny
Hasbrouck
, Edwin
Ubilies
and Alex Franklin, and no other team in the league has such a trio, which is one of the things that makes the Saints so good).
Some people call that balance, but that misrepresents it. You can have balance if everyone averages eight points per game and no one can take over. But although they lack the real star power of
Siena's
Big Three, Han, Warren
Edney
, Greg Nero (right) and Anthony Johnson can all be The Guy when needed.
This isn't to say that these story lines will dominate the season. Story lines develop at many different points of the year, but in December, right around the time professors are handing out those exams, a lot of them come into view at the same time.