Elise Young's Double Shot at Love
Usually, this blog is not the place to read about MTV reality shows centered around bisexual twins.
But when the worlds of sports and romance-centered reality TV shows converge -- remember when former Giants QB and current ESPN college football analyst Jesse Palmer starred in The Bachelor? -- it's at least worth mentioning on sports blogs.

So I write today to offer a plug for MTV's Double Shot at Love, on which
Elise Young
(left as a Stag, below/right as a "Boston beauty"), a sharpshooting former walk-on guard at Fairfield, will be one of 12 women who, along with 12 men, will try to earn the hearts of the Ikki twins, Rikki and Vikki.
For those of you who don't have girlfriends to keep you up to date on the world of reality TV, the background for the show is as follows: Last year, MTV ran a show called
"A Shot at Love with Tila Tequila"
, on which 16 straight men and 16 lesbian women competed for the affection of a bisexual woman named Tila Tequila. Neither the guys nor the girls were aware that Tile was a bisexual until close to the end of the show. The contestants then shared a bed room in Tile's house for the remainder of the series.
In April, MTV ran a sequel -- "A Shot at Love with Tile Tequila 2" -- on which the rules were essentially the same, but the contestants were aware of Tile's bisexuality from the start.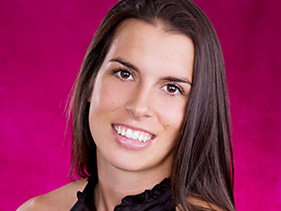 "A Double Shot at Love" is a spinoff on the series, with the cool twist coming when the contestants, Young included, arrive thinking they're competing for the affection of only one twin, then realize they in fact have a "double shot" at love instead of a boring old single shot.
I am not aware of a previous MAAC basketball player taking part in a similar series, though if anyone can think of any, let me know.
I'm interested to see how Elise does. I didn't know her at Fairfield, though in addition to covering the women's team for The Mirror, I served as the color analyst for the team's radio broadcasts during the 2005-06 season. I do know in addition to being a good outside shooter, she was very well liked by her teammates and other people at school. The facebook group promoting this show has more than 400 members.
How will that all translate into her chances with Rikki and Vikki?
We'll all have to tune in tonight to find out. The first show is tonight at 10.