Rutgers 66, Rider 62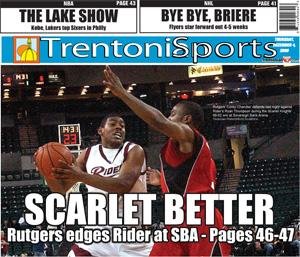 It looked for a while in the second half like Rider might win this thing going away. Rutgers, though, had other ideas, and thanks to Earl Pettis' late-game heroics, the Scarlet Knights left Trenton with a 66-62 win over their intrastate rivals.
As is often the case when major conference teams play mid-major conference teams, I think Rutgers needed this one more than Rider. That isn't to say it wouldn't have been a big momentum builder for the Broncs, who could have made a strong statement that they're just as good as they were last year had they beaten a Rutgers team with more weapons than the one they beat last year at the RAC.
But for the Knights to lose to another mid-major and drop to 4-3 long before the tough part of the schedule begins could have been demoralizing. Fred Hill talked at his postgame presser about getting better every time out, and he said the Knights did that last night. He said that could have been the case even if they had lost, but it's tough to convince a team of that after losing to a team with inferior talent, from an inferior conference. Now, they'll play Binghamton Saturday at the RAC with a chance to improve to 6-2.
Rider, meanwhile, played well for the first 30-35 minutes, got a dazzling performance from Mike Ringgold and got something of a test for the close games that are sure to come frequently once MAAC play starts this weekend.
Manhattan comes to the Broncs Zoo on Sunday.
Today's paper has complete coverage of the Scarlet Knights' win:
The
gamer
.
The
notebook
.
A
sidebar
on Jersey guys getting it done.
A short
sidebar
on Ringgold.
And the
box.