Then it was ten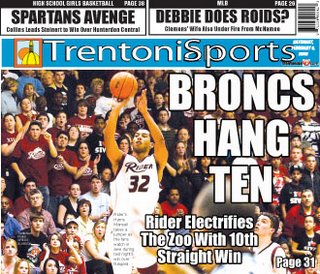 In one of the most entertaining games I've seen this season, Rider beat Niagara last night 80-76 to win its 10th straight. 
Here's a
link
to the story in today's paper, and one to the
box score.
Usually, since the seats at Alumni Gym come all the way down to the sideline on the side of the court where the press table would normally be, the print media sits on the baseline at the far end of the gym. 
Last night, there were so many NBA scouts there to watch Jason Thompson -- 14 of them, from 12 different teams (the Sixers and Bucks each had two scouts there) -- along with a few extra reporters, so the nice folks at Rider eliminated a row of seats at center court and put together a makeshift press table. 
Sitting at center court was nothing new -- that's basically where the press sits at most arenas -- but since we were essentially
in
 the stands, I was treated to an up-close experience with the students that make the Broncs' Zoo famous. 
A few highlights of that experience: 
A girl sitting in the front row noticed that the Niagara game notes were in front of me on the table and asked me, in disbelief, "ARE YOU FROM NIAGARA? Because if you are, this is NOT a good place to sit." I explained to her that I was from neither Niagara nor Mars. I was a reporter who had simply been moved from his normal seat to a different one because a lot of people were at the game. 
A guy sitting in the row behind us was absolutely furious at one of the refs, who he believed was out to get the Broncs. He shouted multiple times: "YOU'RE WORSE THAN TIM DONAGHY!"
I'm not sure if she knew his name, but one of the girls sitting near me has a crush on Lamar Johnson. "I think number 13 is adorable," she said. 
Now, back to the Rider students who were on the court: Unlike the last two wins -- at Marist and at Siena -- the Broncs did not seem to scream out "We're going to the NCAA Tournament!" But they beat an upper-echelon MAAC team, and it was a team that had beaten them four times over the past two seasons, including their first meeting this season. 
I've looked at virtually everything you can look at in the box score, and there isn't any category in which the Broncs dominated. That's what happens when you win by four points. 
As always, Rider shot the ball well: 46.4 percent. Niagara shot 40.6 percent, but to Rider's credit, the Purple Eagles shot only 34.2 percent in the second half. 
The Broncs also did a good job defending Charron Fisher in the second half, when he scored only 10 points. A word though about Fisher: in some ways, he's a lot like former St. Peter's star Keydren Clark, who once led the nation in scoring: he scores a ton of points, but a big reason for that is the incredible amount of shots he takes. 
That isn't to say Fisher isn't a great player, but after seeing him in person for the first time this year and only the third time in the last two years, I came away relatively unimpressed by a guy who came in averaging 26.7 points per game. 
He scored 30 points, but he needed 27 shots to score them -- almost a third of Niagara's shots. He was 1-for-7 from 3-point range and at least five or six of the shots he took had no chance of going in. A couple were from impossible angles and a couple didn't even hit the rim. Many of those times, he would have been far better off driving to the hoop or trying to find an open teammate. 
He also struggled from the free-throw line, where he made only three of seven attempts. That was surprising, since he came in shooting 80 percent from the line, and it was costly: many times when games are decided by such a small amount, free throws can make a big difference. 
On Rider's side, Jason and Ryan Thompson scored 18 and 16, respectively, but I thought the the biggest plus was that Harris Mansell also scored 16. Mansell came in averaging just a shade over 13 and still hadn't been shooting the ball the way he did last year. Last night he was 3-of-6 from behind the 3-point arc, 4-of-8 from the floor and 5-of-5 from the line, making two free throws with 1.6 seconds left to seal the win. 
Siena beat Marist last night in overtime, so the Saints remained just a game behind Rider heading into tomorrow's showdown at Alumni Gym. If the Broncs win that one, it's hard to imagine them not winning the MAAC regular season title. If they lose, all bets are off and we're in for a heck of a two-team race in the final four games.