Rain, sleet, snow and Ivy League basketball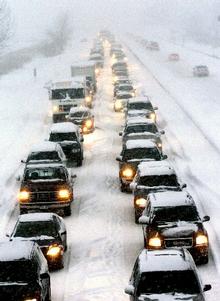 For at least two months, I can't recall a single instance of wintery weather in Trenton. No snow, no sleet, no hale, no freezing rain. Sure, we'd get a night here and there when it would be really cold, but for the most part, I was beginning to think any kind of frozen precipitation only fell north of Exit 9 on the Turnpike. 
That all changed tonight, making it a bad night for Trentonian Princeton beat writer Joe O'Gorman and I to trek down I-295 to the Palestra to cover the 217th installation of the Princeton-Penn rivalry. (Joe wrote a column, to which we unfortunately have no link, and I wrote the
game story
. )
We left Joe's house in Bordentown at about 4:45. Should be plenty of time to get to Philly -- typically about 45 minutes away -- in time to park, grab a cheese steak, take our time walking into the building, get some game notes, and be in our seats 20 minutes before tip, right?
Wrong. 
On my unofficial scorecard, there were six accidents on 295 thanks to the weather, causing bumper-to-bumper traffic the whole way and delaying our arrival at the Palestra until almost 8:00. 
When we finally sat down, there were four minutes left in the first half. 
Fortunately for us, though, the second half was far more exciting -- and in some cases, bizarre -- than anything we missed. 
The Tigers rallied to get within a point and had a chance to win it when Noah Savage had an open look from 3-point range on the left wing. 
The shot rimmed out -- the second straight  time that's happened to a Mercer County team in the final seconds -- and Penn's Remy Cofield got the rebound. 
That's when chaos broke out. Zach Finley fouled Cofield, then exchanged words with Brian Grandieri. Both players were assessed technicals, effectively offestting one another, so Cofield shot two free-throws, making both, and Princeton got the ball back. 
9.3 seconds left, 66-63, a chance to win it. 
Right?
Wrong. 
No one but the refs -- not Sydney Johnson, not anyone on press row -- saw exactly what happened, but Savage was called for a technical foul, giving Penn two free throws, the ball, and for all intents and purposes, the game. 
It was my first chance to see the Tigers this year in person, and also my first trip to the Palestra. 
If it hadn't been for the weather woes, it would have been a great night of college hoops. 
But a few bits of good news: Joe and I got home safe and sound, the game was exciting and if you're a Princeton fan, you have reason to be optimistic about your team. 
They lost last night and certainly will lose at least a few more before the year ends. But slowly and surely, the Tigers are getting better. 
Penn is a shadow of its defending-Ivy-League-champion self, but the Quakers are still a fairly talented team playing at home. And if the Tigers had gotten a couple bounces and a couple of breaks, they would have come away with a win. 
I didn't follow them closely last year, but I know it's not a game the 06-07 Tigers would have come close to winning.