The strange story of Jimmy Patsos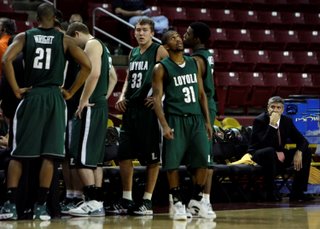 In many ways, Jimmy
Patsos
is simply a prototype of the man who was his boss at Maryland.
Like Gary Williams,
Patsos
can be a sideshow on the sidelines. He yells, screams, jumps up and down, and in typical College Park fashion, sweats through his shirt in every game.
Yet since becoming the head coach at Loyola -- and reviving a program that was one of the worst (THE worst?) in the country when he took over -- he has taken sideline antics to a level rarely seen in college basketball.
I don't know
Patsos
, though I've talked to him on a couple of occasions and attended several of his
postgame
press conferences. Most people I've talked to who know him say off the court, he's a good guy -- friendly, fun-loving, and enthusiastic. On the court, though, his antics -- often not only yelling at officials, but at opposing players and assistant coaches -- have offended some people and at times gotten him in trouble.
Few scenes, though, were more unusual than the one from Tuesday night, when, after being assessed a technical in the first half, he retreated to the end of the Greyhounds' bench, talking to the players sitting near him but not those on the court, and letting his
assistants
essentially coach the game.
In the second half, the situation became more unusual. When according to
Patsos
, official John
Gafney
came over near the Hounds' bench and inexplicably confronted him, the coach jumped up into the stands, where he sat with Loyola athletic director Joe
Boylan
before returning to the bench.
The incident, which took place during Loyola's 82-72 loss to Cornell in the preseason NIT, has provoked
Patsos
to do some soul-searching, as this
piece
in the Baltimore Sun details.
Attitudes around the
MAAC
are mixed toward
Patsos
, with some coaches regarding him as unusual but relatively harmless and others taking great offense at his antics.
Patsos
' behavior toward
officials
and his penchant for over-the-top sideline celebrations often draw attention, but are sometimes not THAT far removed from the norm in a sport that was dominated for decades by the official-
harassing
, chair-throwing Bob Knight.
What has irked opposing coaches has been
Patsos
' attempts to engage opposing players and assistant coaches in trash talk.
The situation nearly boiled over in the 2007
MAAC
tournamnet
when
Patsos
and Ed Cooley got into a shouting match at
halfcourt
, and the Hounds were also involved in a verbal sparring match last year at Niagara that nearly turned into a
postgame
brawl.
It's these kind of actions that have to make
Boylan
and others in the Loyola administration uncomfortable, and it's strange antics such as those
Patsos
exhibited Tuesday -- producing the picture featured above of him sitting wide-eyed on the bench as his team huddles with assistants 10 feet away -- that are turning into an embarrassment for the school.
Patsos
the basketball coach has been one of the biggest mid-major successes in the past decade. He took a program that went nearly an entire season without a win and turned it into one that, even in a rebuilding year, was picked fifth in the preseason
MAAC
coaches' poll last month.
That success on the court has certainly earned him enough good will in Baltimore that his job can't be in immediate jeopardy, no matter his
behavior
.
But if I were the Loyola administration, I'd stage a serious sit-down meeting with
Patsos
to tell him he can get excited on the sidelines without demonstrating poor sportsmanship toward 20-year old college students or embarrassing the program and the university.
And if I were
Patsos
, I'd make a serious effort to get my act together.