Ed Cooley on Fairfield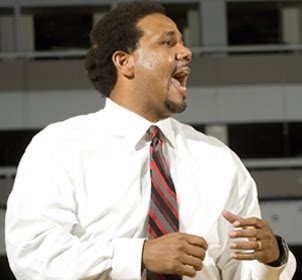 Ed Cooley gave me 15 good minutes earlier today on the MAAC, his team and the state of the Fairfield program heading into tomorrow's game against Rider.
Q: Heck of a night last night in the MAAC.
A: The league, looking at all the scores of the games, you have to knuckle up every night. I truly believe this is the best our league has been since I've been here. You credit the coaches who have come into the league and done a decent job with recruiting and coming up with game plans, the talent that they've brought in and the styles of play. It's been tough. It's been really really tough.
Q: Given everything your team has gone through, you have to be thrilled with the 8-3 start.

A: We've been blessed that our kids who did have an opportunity to play last year because of the injuries. Lydon Jordan, Ryan Olander, Sean Crawford, Jamal Turner, all those young men are playing big roles for us. Yorel Hawkins has been able to really step up. Really the biggest surprise is, we thought he'd have a big junior year, but now he's having a Player of the Year type season, is Anthony Johnson. He's playing unbelievable right now.

Q: Johnson's an amazing story.

A: Beyond anything else, I know there's a lot of stories in our league about people overcoming adversity. This young kid is such a success story that I don't even know if he knows it. Coming from Florida, you know his whole story, to graduating in a couple months, to being one of the most successful stories in college basketball today. The year he's having is rewarding for me to see what he's doing not just on the floor, I'm really proud of Anthony.

We told Anthony come here and be special. Come help Fairfield get on the map. Try to get to a place we haven't gotten to in many many years. I thought last night (at Loyola) he willed us to win. He really led us down the stretch with his energy and his determination. It was special.
Q: Seems like after a rocky year last year when you had to throw a player off the team, that this year's team has much better chemistry.

A: For those who know me, I'm more of a character-based guy. When you take over a program you're not going to have the personality that fits your personality because you didn't recruit them and they don't understand who you are as a person in the recruiting process. They need to know who you are as a coach and who you are as a person, and now all the players we have have gone through that recruiting process with me. We feel there's a big difference in the commitment to wanting to become a better program, to getting better individually and to collectively buying into that philosophy, and that's been huge.
Q:Derek Needham?

A: To do what he's doing in our league, to control the games the way he's been controlling them as a freshman is, since I've been in the league I don't know if we've had an impact guy like that, and the league has had some wonderful, great players since I've been here. Because of his ability to lead. You'd love him if you sat and talked with him. He's very humble. He's a dream come true for a coach.
Q: Is he the kind of player who can take your program to the next level, from a team that wins 9, 10, 11 MAAC games to a team that wins 12, 13 or 14?

A: I guess you don't put a number on it. You try to privately tell yourself the number that you think will win the league, but let's go back a little bit to the process, to the process and the history of Fairfield basketball. The situation we walked into wasn't very promising. Let's be honest. The process takes time. At our press conference, we said hey, within three to five years we should be in the top half of the league, and quite frankly since we've been here we've been in the top half of the league. But it's a process, it takes time. Derek Needham is the type of player who can help you turn a program around. People are going to want to play with him. He's that type of player. He's that special.
Q: How about having your predecessor, Tim O'Toole, serving as a color analyst on local TV broadcasts?

A: I think it's great. It's a testament to Gene Doris and also to Tim. He's understanding that this is business, but he's an alum of the school, he's a former coach. He has a passion for this university. I think it's been a really really good thing, and it shows, it should show everyone that this is a business, that's one thing, but if you love something and you have a passion for it, you continue to do what you have to do and I'm really proud of Tim as well as Gene for allowing those opportunities to present themselves.
Q: Have you talked a lot to Tim?

A: Yeah. As an alum he's very proud. I think he sees it's headed in the right direction. He had some shortcomings, but I don't think there's any ill will. I appreciated him leaving me with the players he left me with like MVS and Greg Nero to name a few. You're hired in this business, you realize it's not going to last a lifetime. Bobby Bowden just got fired at Florida State for crying out loud.
I hope I can have some of the successes he's had in the league. I defeinitely think we're trying to build something here.