Live from New York, it's ... The Blog's preseason MAAC rankings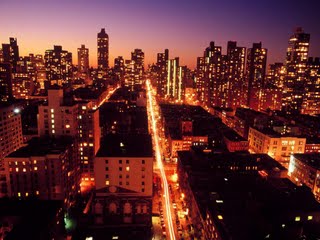 MAAC media day is next Tuesday, in my new home of New York.
As I mentioned last week on Twitter, I've taken the plunge, moved in with the girlfriend and entered the world of reverse-commuting. It's a pretty good situation. I've traded my crummy apartment complex outside Trenton for the Upper East Side, which has plenty of good bars in which to watch college hoops and even easier access to some other MAAC schools.
I spend a bit more time on the road these days, but that's why God created satellite radio, isn't it?
The one downside to this moving situation is that the move -- coupled with desk work and that little preseason activity known as college football -- has taken me away from The Blog.
But there's good news on that front: I'm settled in here,
Matt Stein
is doing a great job holding down The Trentonian's Rutgers football beat, and it's time to get back to business.
With that in mind, here's The Blog's preseason MAAC rankings, which will be updated each week during the season in the form of Year 2 of the Press MAAC Index.
Something tells me that the team atop these ranking will hold steady from wire to wire, just like it did last year. Beyond that, though, there's plenty of room for plenty of teams to move up or down several spots.
1. Siena (27-8 overall, 16-2 in the MAAC; advanced to the second round of the NCAA tournament)
Although the Saints aren't yet the Gonzaga of the East, they've joined a small group of mid-majors that have nation-wide name recognition and serious hopes of an NCAA at-large bid should they unexpectedly stumble in the MAAC tournament.
Ronald Moore
-- he of "Onions!" fame - and
Edwin Ubiles
lead a returning cast that should be good enough to improve even without
Kenny Hasbrouck
.
2. Rider (19-13, 12-6; lost in the first round of the CollegeInsider.com tournament)
I thought about simply flipping a coin to pick between Rider and Niagara for the No. 2 spot.
Both teams played at a high level last year, the two split their regular season meetings, and the Eagles won their MAAC semifinal game in double OT after
Tyrone Lewis
' miracle bank shot at the end of regulation. Four starters return on each team, including the Eagles' Lewis and the Broncs'
Ryan Thompson
. But for my money,
Benson Egemonye
is a bigger loss than
Harris Mansell
, which gives the Broncs -- who will fill Mansell's spot with Monmouth transfer
Jhamar Youngblood
-- the slightest of edges.
3. Niagara (26-9, 14-4; lost in the first round of the NIT)
See above with regards to the Eagles' being in the No. 3 slot instead of the No. 2 slot. They may well be picked second in the preseason coaches' poll, and they certainly represented the MAAC well last year. If they can find a way to replace Egemonye, a major post presence at both ends of the floor, their win total could be back in the mid-20s.
4. Saint Peter's (11-19, 8-10)
I don't know how
John Dunne
does it.
The Peacocks play in a gym that resembles a 15th-century dungeon. They have by far the least fan support in the league, and financial resources that make GM look like Goldman Sachs. Yet Dunne has assembled a talented team that keeps getting better, so much so that I'll be surprised if SPC doesn't finish with a winning record in the league.
5. Loyola (12-20, 7-11)
Jimmy Patsos
may frequently end up in the headlines for his bizarre behavior, but he's also proven to be one of the best program builders in the MAAC. The Hounds took their lumps last year after losing their entire starting front court to graduation, but with
Jamal Barney
back and 6-10 Maryland transfer
Shane Walker
eligible, no one will want to play them.
6. Fairfield (17-15, 9-9)
Had I put together these rankings a month ago, I would have picked the Stags fourth. That may well be their place in the preseason coaches' poll, since the voting took place before the following revelations from North Benson Road: The Stags will be without
Greg Nero
at least until December and quite possible for the entire season;
Warren Edney
, the Stags' best player early last year, still hasn't returned to practice; and if that wasn't enough,
Yorel Hawkins
came down with appendicitis and will be out until December.
Here's to hoping that unlike last year, the injury bug leaves the Stags alone once the season gets underway.
7. Canisius (11-20, 4-14)
Through all their struggles last year, the Golden Griffs had one very important thing going for them: They were the youngest team in the MAAC and one of the youngest in the country. That means all five starters return, including point guard
Frank Turner
and handful-of-a-bigman
Greg Loggins
.
8. Iona (12-19, 7-11)
In two years under
Kevin Willard
, the Gaels have neither had a winning record nor advanced past the opening round of the MAAC tournament. If Iona is to achieve either of those goals this year, reigning Rookie of the Year
Scott Macahdo
will have to play like a senior, and someone will have to step up as a force in the frontcourt.
9. Marist (10-23, 4-14)
Last January, the Red Foxes looked poised to finish in the top half of the league standings and make a loud statement in
Chuck Martin
's first year. That never materialized, and an awful final stretch left them just where everyone picked them: the MAAC cellar.
But thanks in a large part to Martin and veterans such as
Dejuan Goodwin
, the team rebounded to get through the opening round in Albany, and with a pair of transfers --
Daye Kaba
from Boston College and
Casiem Drummond
from Villanova -- added to the mix, the Foxes will be scary.
10. Manhattan (16-14, 9-9)
The league is at its best when the Jaspers are in contention, but that simply hasn't been the case since
Bobby Gonzalez
bolted for Seton Hall and a bevy of transfers left
Barry Rohrssen
without enough talent to be among the MAAC's elite teams.
And though
Darryl Crawford
can play, someone else --
Antoine Pearson
, perhaps? -- needs to step up as a consistent double-figure scorer.