News and notes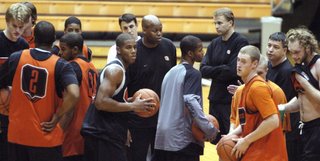 A few quick hits:
The happiest coach in the country today has to be Oregon State's
Craig Robinson
(above, at practice today with his team), whose sister, Michelle, will be America's next First Lady.
A tip of the hat to fellow MAAC beat writer and politics junky Keith Connors, who did a great job, along with Chris Haliskoe and the rest of the crew, covering the election for
The Mirror
. They even gave me a shot at being an amateur political analyst during a spot on their live webcast.
Ex-Suns star Kevin Johnson has a
new job
.
Marist's Rachele Fitz
is a candidate
for the women's Wooden Award, more evidence that the Red Foxes are head and shoulders above any other MAAC men's or women's team.
A commenter points out that I sold Jason Thompson short in my last post. JT, as the reader points out, entered tonight's game against Memphis with four double-figure scoring outputs in four games, not three as I wrote. Somewhere in the confusion of keeping an eye scores while designing pages, I missed the bucket that got him to 10 points in the Kings' 103-77 loss to Miami on Halloween night.
I've got a doubleheader on tap for tomorrow, with Princeton media day at 3:30 and Rider practice at 5.