MAAC Madness in Atlantic City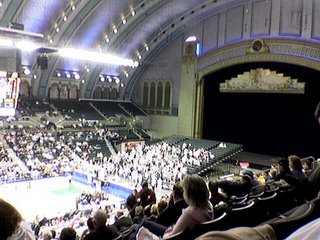 Don't look now, but Midnight Madness is only a month away, with the start of the regular season just a moth after that. The Blog will get busier in October and, though the last month of regular-season college football won't make it the easiest thing in the world, we'll try to give you something good to read every day in November. 
The penultimate leg of our MAAC Madness virtual journey brings us to Atlantic City, with Baltimore on tap to wrap it up. Here's the rundown: 
Attendance in past tournaments:
NA
Local newspaper (circulation):
The Press (66,822 daily, 71, 708 Sunday)
Driving distance from league schools: 
482 miles (seven hours, 55 minutes) from Niagara 
463 miles (seven hours, 34 minutes) from Canisius
273 miles (four hours, 34 minutes) from Siena
205 miles (three hours, 41 minutes) from Marist 
183 miles (three hours, 20 minutes) from Fairfield
149 miles (two hours, 42 minutes) from Iona
140 miles (two hours, 30 minutes) from Manhattan
122 miles (two hours, 12 minutes) from Saint Peter's 
98 miles (one hour, 43 minutes) from Rider
155 miles (two hours, 48 minutes) from Loyola
Average distance: 227 miles (three hours, 34 minutes) 
The Skinny:
Same issues with Mohegan Sun. Geographically, it isn't on anyone's way anywhere, and at least for me, the appeal of Atlantic City isn't enough to increase my desire to go to the tournament. The A-10 has its tournament there, but I don't know if that makes a whole lot of sense either.